There are many reasons one could want to log their travels, and especially flights. It makes recollecting events easier, gives access to interesting stats like distance, speed and altitude, and makes for good looking wall art, or even gifts. In this post, we'll look at a few different ways of logging and mapping flights, from the simplest and least involved to some high tech gear techniques.
The simplest way to log your flights – myflightradar24
The quickest way to get some form of logging going are online flight logging services. I've used flightdiary – today called Myflightradar24 – for the past 10 years or so.
It works by entering a few data points about the flight like the origin, destination, times, aircraft type, registration and seat. The flight gets logged and can be automatically displayed on a map – with access to all sorts of statistics. Here's an example of a random user: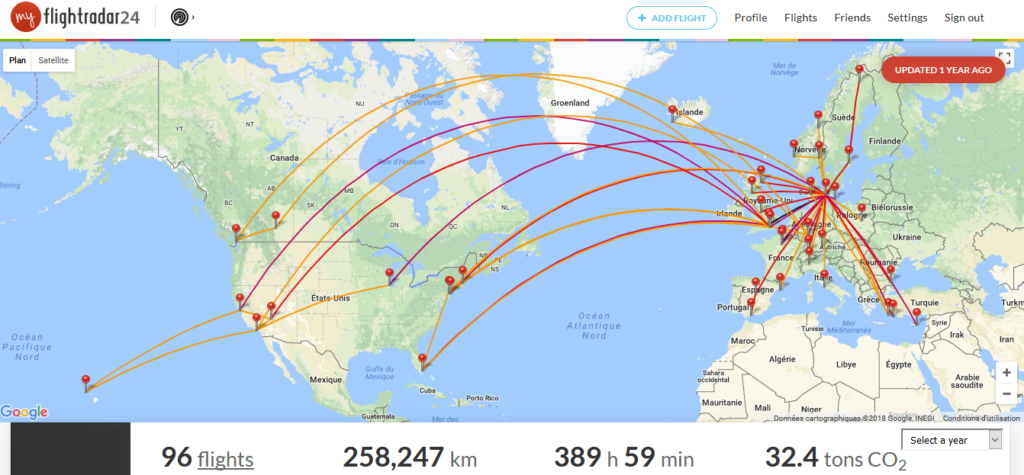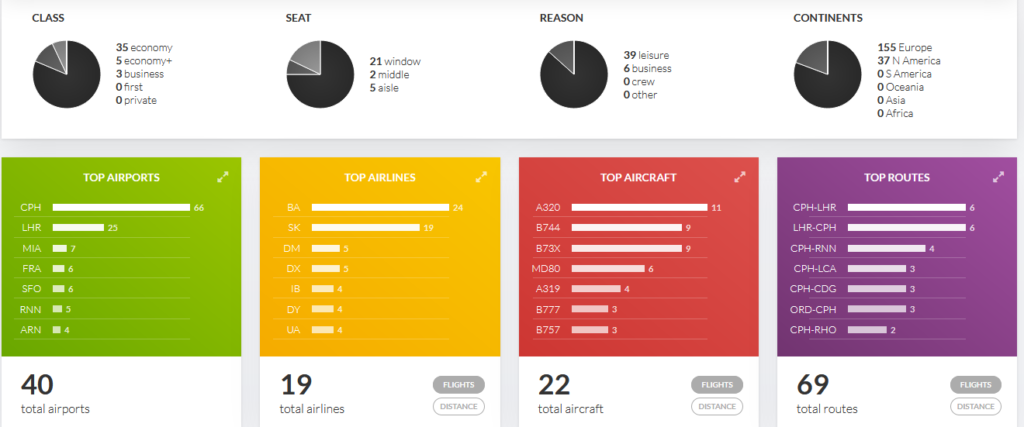 Myflightradar24.com is free to use, and has auto-completion of flight data using flight number and date. It takes virtually 30 seconds to log a flight.
There are other services such as openflights.org, or myflightbook.com, but I haven't tried them. They seem to offer different types of maps and visuals, so they might be worth trying.
The flightradar24 way – downloading the 3D flight path
Logging flights using airport pairs is a nice start. What it gives us is the shortest direct theoretical route from our A to B, plotted on a map, and an approximation of distance and time flown.
What's even better is to know the exact flight path, altitude, and times. For one it can help you identify cities and natural landmarks on your photos. It is also possible to create a custom map with the turns and holding patterns, especially if you're flying to a busy airport like Heathrow or Atlanta.

Here's how it works. After landing, you can type your flight number followed by "flightradar" into google and it will send you to flightradar24's history page of the given flight.
If you have a free account, you can only playback the flight, which is a start. But if you have a silver upgrade, which costs $9,99/year, you can download the flight path in .KML or text format.

The .KML format is used by Google Earth, and enables you to simply open the flight, display it in 3D on the map, and customize many visual parametres. Below is an example of my flights so far in 2018, as downloaded from flightradar24.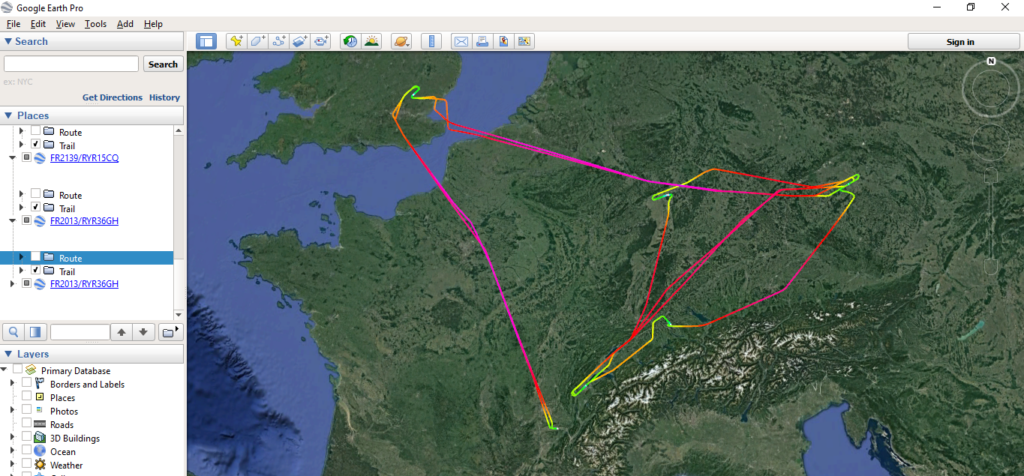 The most precise way to log flights – works worldwide
There are disadvantages to the flightradar24 technique above: it relies on ADSB recievers worldwide that do not cover the whole surface of the planet. These days, new satellite recievers are being put into service, but that does not guarantee that the totality of you flight will be covered.
The most reliable way to get a complete track of your flight is still a personal GPS logging device. These will log a flight with from start to finish, with more data points depending on the device, and will give more options in how you can use the data.
Smartphone GPS app
The most accesible GPS logging device is in our pockets – the smartphone. Any sports or tracking app will do, but one that allows you to export data in a reasonable format, like .KML, will be best.
Here are a few examples: GPS logger for android – by Mendhak (lightweight background logger that exports .KML), or GPS logger by Tobert Torok or Sportactive GPS Running Cycling Distance Tracker.

Beware of increased battery consumption when the GPS is on, it is best the charge the phone while it's logging.
GPS watch
I'm no expert in the GPS watch field, but Tis Meyer has a great guide on how to do flight logging using a GPS watch. He currently uses a Globalsat GH-625XT, but I'm sure there are lots of other options on the market depending on the type of data and accuracy you want to get, and of course your price range.
Simpler watches usually start at around 80 euros or 100 $, and can get to around a 1000 $ for specialized aviation GPS watches.
Portable GPS
For the classic and bulkier portable GPS units, brands like Garmin, TomTom, Polar and Polar all have devices that offer logging capabilities. Your choice will mostly depend on the size, battery life, screen size and quality and your budget.
The good old way – paper logbook
Finally, there's the "back to basics" option, that is maybe the most enjoyable of all.
Just like pilots log their flights with various information, enthousiasts log the flights they take in physical logbooks. As an example, my friend Keishi from KNAviation created a flight logbook in a pocket format, with many flight information that can be filled in by the pilots, crew or yourself. You can get it here if you want.
Here is an entry from my logbook made by pilots on one of my flights: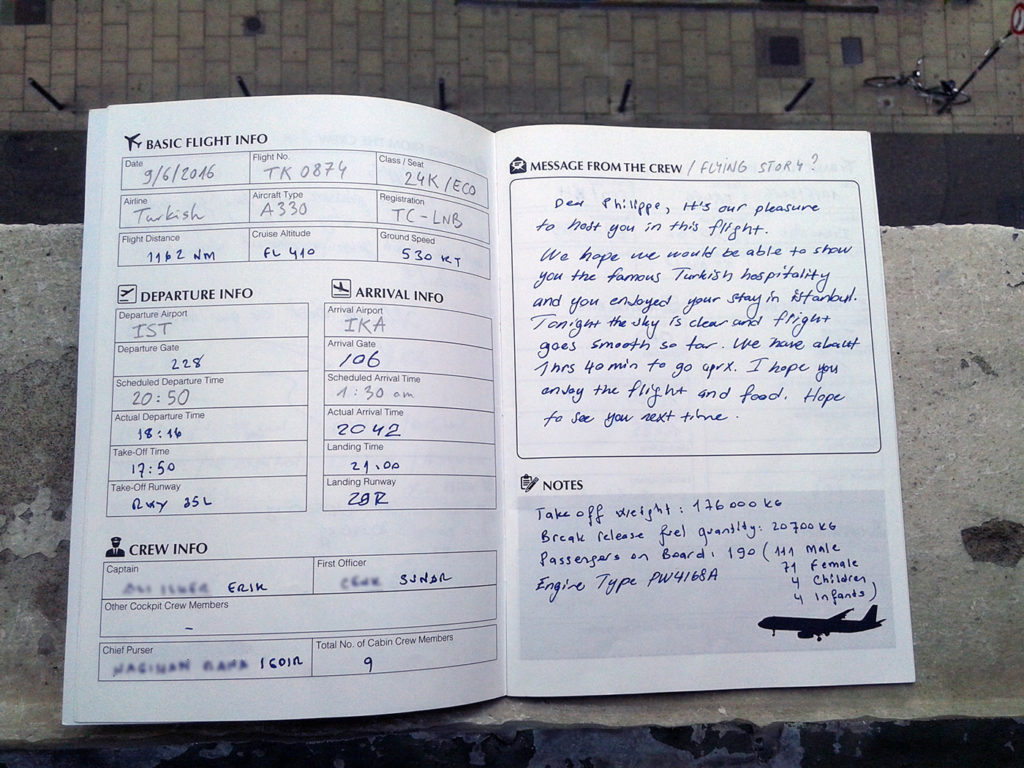 There you have it. Let me know what device or app you use to log and map your flights!
Til next time!