Lenses are one of the most cruicial elements in the making of an aviation photo. The maximum aperture, quality of the optical elements, speed of autofocus, build quality and resistance to elements all play an important role.
Today, we're going to look at the 3 lenses I believe are most useful for aviation photography, which ones to choose and why. Here is the undelying theme of this guide: spending the money where it matters the most. Once you have the right gear, there is no need to get anything else… until it turns into dust – or suffers a fatal bag drop!
Telephoto and wide angle lenses – must haves for aviation photography
There are basically three main types of lenses best adapted for aviation, wide angle, mid-range and telephoto lenses.
For regular airliner spotting, air shows, or detail shots, the most versatile lens will be a tele photo lens.
For all the "Princess Juliana spots", gate shots, bus boardings, taxiing airplane spots, air shows static displays, wide angle lens are most adapted.
We'll also look at the mid range, which falls into the wide angle category, to complete the photo bag. These lenses are useful mostly for taxi shots, ground static shots or moving further away and getting creative with composition.
Let's get a look at some of the best lenses for the different big brands in each category.
1. The aviation photography workhorses : 70-200 mm and 100-400 mm (for full frame)
For most airliner plane spotters at major airports, a 70-200 lens is arguably the best starting point. I've been to many airports and 95% of the time, this focal range will allow you to get good zoom-ins, sideshots and get creative with composition. There are times where 70 mm will be a bit too much, especially on a crop factor camera. Most of the time, this can be solved by just moving further away.
Here are the best 70-200s you can get for your money. I will use my Canon 70-200 f/4 L as an example below, but basically, you can get the equivalent high-end lens from your brand whether it's Sony, Nikon or Panasonic. Here is a preview table of the lenses we'll talk about:
| Image | Lens | Stabilization | Price | Dxomark score | Shop |
| --- | --- | --- | --- | --- | --- |
| | Canon 70-200 f/4 | No | * | x | Amazon |
| | Canon 70-200 f/4 IS II USM | Yes | **** | 27 | Amazon |
| | Nikon 70-200mm f/4G ED VR | Yes | **** | 33 | Amazon |
| | Sony FE 70-200mm f/4 G OSS | Yes | ***** | 35 | Amazon |
| | Sigma 70-200mm f/2.8 APO EX DG | Yes | *** | 26 | Amazon |
| | Tamron SP 70-200mm F/2.8 Di VC USD G2 | Yes | **** | 35 | Amazon |
Canon vs Nikon vs Sony 70-200 mm
Canon is the only manufacturer offering a "basic" professional f/4 non stabilized 70-200 lens. The rest of the competition focuses mainly on more expensive models – either stabilizied f/4 for Sony and Nikon, or f/2.8 for Sigma and Tamron. The Nikon and Sony are usually about twice as expensive as the base Canon 70-200 f/4, and similar in price to the f/2.8 or f/4 IS Canon versions. Here are the competitors (you can click on the images to see the prices on Amazon):
The Nikon and Sony lenses are excellent, they are professional lenses that you can' t go wrong with.
Third Party 70-200 f/2.8 battle
The Sigma and Tamron are competing on the same technology and segment. The difference between the two and the rest of the 70-200s is that they are more budget oriented. Equivalent technology cost anything between 2 and 4 thousand dollars for a Canon, Nikon and Sony.
Sigma and Tamron both offer 2.8 lenses with image stabiliation at about the same price (the Tamron is a bit more expensive). Technologically and quality wise, they are very similar, with an advantage on the Tamron's side, which is weather sealed, has a slightly faster autofocus, a better finish and is sharper wide open.
Here are the links to the thrid party Sigma and Tamron:
Verdict: The Tamron 70-200 is clearly the winner. For about 10-15 percent more money, you get a superior lens, with image stabilization and a 2.8 aperture.
One example : the excelent Canon EF 70-200mm f/4L USM
I have owned the 70-200 f/4 USM for about 7 years,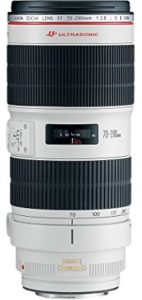 and I can say for myself and multiple other accounts like my friend Keishi from KNaviation who owns it as well that it is an absolute beast. With that lens, I feel like I am not limited by my lens whatsoever when it comes to quality.
The sharpness is remarkable, surprisingly even wide open at f/4! It's got nice contrast and very low chromatic aberration. The lens is tough as a navy seal. I treat my gear with a lot of care, I never dropped it, but it did come into contact with walls or fences a few times when swinging on my neck, and only came out with tiny paint scratches. I also shot a few times in serious rain and never had a problem.
Lastly, the autofocus, arguably one of the more important parametres for an aviation lens, does what it's supposed to do. It uses an Ultrasonic (USM) motor and as it should, it focuses really fast. You can even re-focus in automatic mode, as the ring is free.
Here are a few images I have taken with my 70-200 f/4 on a 600d (click to enlarge):
Verdict: For what it costs, the Canon 70-200L f/4 (specifically) is like a cheat code to can get into professional Canon L series gear. The constant f/4 aperture is (very) useable wide open, it's got a rock solid image quality across the frame, and a great build quality. It's the best investment I've made so far in photography (and I got it almost half price second hand). Out of all the Canon 70-200L family, the non IS f/4 version (this one) has paradoxically the best optical quality, even though it's the cheapest.
Alternative: If budget is less of an issue, you can get twice as much light onto you sensor by getting the f/2.8 version, or the 2.8 stabilized version, which will run you about 3 times the price of the base f/4 version.
Conclusion for 70-200 lenses
To sum up: If anywhere, spend the money here – on a good 70-200 mm. I don't recommend the cheap 70-300, 18-200 and similar wide range lenses out there. You can get away with an entry level body, but a good lens is going to give you image quality, enjoyment, and a solid build.
Evolution/alternative: You can get either the 1.4 or 2x extenders, which will make a 98-280 mm or 140-400 mm out of your lens, and give you more fexibility. It does come with an apreture penalty, which is less noticeable when light is plentiful.
You can also get a 100-400 instead. Especially if you own a full frame Camera. These lenses are more expensive, but not excessively, especially for the Canon which pricewise is not far from its shorter 70-200 2.8 image stabilized brother.
Canon, Nikon and Sony, and even Tamron and Sigma all offer 100-400 or close (but it is best to skip the last two brands in that segment). The 100-400s are heavier, larger and less luminous, but offer more zoom. I would definitely recommend them over the 70-200 to all the military and air show folks.
2. The Super Wides: 10-18 mm to 10-24 mm
The super wides are possibly my favourites lenses to use. Why? Because they bring you the closest to the action! Some of the greatest and most famous spots in the world, like Myrtle Avenue, Toronto Petro Canada, LAX In-n'-Out or Princess Juliana, bring you freakishly close to beasts like 747s and A380. Over there, there is just no getting over having a Super Wide zoom (or prime for that matter) and getting someone take of photo of you with one of the widebodies!
And of course, let's not forget the gate shots and #windseatwednesdays. This is what makes the DSLRs and mirrorless cameras still relevant today. The ability to go super wide (or narrow) compared to a smartphone or pocket camera. Because let's face it, for most casual picture taking and documenting at around 35-50 mm equivalent, 2018 smartphones are just mostly good enough.
In this category, the choice of zoom ranges gets wider. Canon, Nikon, Sony, Sigma and Tamron all offer 10-18 or 10-20 mm variants, and the choice is pretty straightworward. You can just get the one that your camera brand has to offer. It's as simple as that. They are all good lenses, although the Sony definitely stands out. Here's a preview table of the wide angle lenses we're going to look at:
| Image | Lens | Stabilization | Price | Shop |
| --- | --- | --- | --- | --- |
| | Nikon 10-20mm AF-P DX f/4.5-5.6G VR | Yes | ** | Amazon |
| | Canon EF-S 10-18mm f/4.5-5.6 IS STM | Yes | ** | Amazon |
| | Sony 10-18mm f/4.0 OSS | Yes | ***** | Amazon |
| | Tamron 10-24mm f/3.5-4.5 Di VC USD HLD | Yes | *** | Amazon |
| | Sigma 10-20mm f/3.5 EX DC HSM ELD SLD | No | ** | Amazon |
The 5 best super wide zoom lenses
Sony leader, then Nikon and Canon
Between Sony, Canon and Nikon, Sony is the one who stands out. It is the only one of the three to offer a high quality super wide zoom, but it cost about twice as much as the competition. Accordingly, it comes with a high quality metal finish, and a constant f/4 aperture, compared to f/5.6 for the Canon and Nikon (at 18 and 20mm respectively). It is therefore twice as luminous as the Canon and Nikon when zoomed all the way in.
Here are the three lenses side to side, you can click on the lenses below to check the current price on Amazon:
I've personally owned the Canon 10-18 and Sigma 10-20, both f/4.5-5.6. And they are both very good lenses for the price. Especially the Canon 10-18 which also has image stabilization. All of my wide angle pictures on Thefullgull from the past 2 years were made with the Canon 10-18.
The two Third party super wide angle lenses
Let's talk about the usual 2 competing third party manufacturers, Tamron and Sigma. I am not familiar with the Tamron myself, but I know one thing for sure: 24 mm is more than 20! From the research I did on the lens, here are the strong points. It is completely weather sealed, has a 6-year US warranty and ultrasonic, reasonably fast autofocus and a solid build.
I still have the Sigma 10-20, and I can't say anything bad about it. Unfortunately, mine came with a very slightly tilted element, which was caused possibly during shipping (bought on Ebay from china-risky), or maybe a manufacturing defect.  But otherwise, if you can get a good one (as you will through Amazon for example – buying lenses on Ebay can be risky), the Sigma is a good bet.
Here they are side to side, again click to check price on Amazon:
The Tamron is without a doubt a superior lens, at lest when it comes to how fast it is – constant f/3.5 throughout the zoom range! The Sigma, although cheaper, is a and f/3.5-4.6. But that's not such a big difference to be honest. Both have fast ultrasonic autofocus (which is an advantage compared to the Canon and Nikon models). I have found the stepper motor on the Canon to be very fast too, so it might not big such a big deal.
Verdict: if you can afford the extra couple of hundred dollars, you can get the Tamron, or Sigma. They are both good quality lenses with fast(er) autofocus. If you're more on a budget, get the Canon or Nikon, they are great lenses too (had the Canon for 2 years, I couldn't find anything to complain about except maybe the plastic-y feel). As for sony, well, you don't really have a choice there… that's the price of high end.
3. The mid-range zooms for aviation photography: from 16-105 mm
In the mid-range zoom lens category, 1 lens stands out, and it comes from a third party manufacturer, Sigma. Although Canon and Nikon both offer lenses around 18-50 mm, they do not come cheap. Sony does have a nice stabilized f/4 lens that is on offer around the 600 dollar mark.
If you are a Canon or Nikon user, the Sigma 18-35 f/1.8 (!) is a real gem. Being part of the Sigma Art line, it offers a super wide aperture for a retail price of around 800$. I have used it together with my friend's canon 70d and it feels and it is unreal, being able to shoot at f/1,8 on a non-prime lens.
Here is a table of the available lenses in the mid-range zoom category:
| Image | Lens | Stabilization | Price | Dxomark score | Shop |
| --- | --- | --- | --- | --- | --- |
| | Sigma 18-35mm F1.8 Art DC HSM | Yes | **** | 30 | Amazon |
| | Canon EF 16-35mm f/4L IS USM | Yes | ***** | 27 | Amazon |
| | Canon 24–105mm f/4L IS II USM | Yes | **** | x | Amazon |
| | Sony E PZ 18-105mm F4 G OSS | Yes | *** | 15 | Amazon |
Now for a bit of theory…
What to look for in a Planespotting lens
Since everything goes fast, aviation photography most often requires fast exposure times. This is to avoid motion blur coming from our shaky hands and the long focal lengths that amplify our movement. That's why it is good to look for a lens with the widest aperture possible (that lets in a lot of light), and Image stabilization (if you can afford it).
Below are two examples to illustrate motion blur due to fast movement (on the propellers), and motion blur due to low light (air france in the background). I'm sure you've all experienced hand shake blur 🙂
Second, also because things happen fast, and the planes are getting closer or further, it's necessary to have the fastest and most precise autofocus possible. Now granted, the body is partly responsible for the speed of focusing, but we just can't afford to loose time because of the lens. So any classic motor autofocus is not optimal. The best is to get USM (Ultra Sonic Motor) for Canon, AF-S (Silent Wave Motor SWM) for Nikon, Sony SSM (Smooth Autofocus Motor), Sigma HSM (Hyper Sonic Motor) and Tamron USD (Ultrasonic Silent Drive).
Here is an illustration for the need of a fast autofocus. This Icelandair 757 is moving away from us at about 60m per second. So between each photo, the focus needs to be readjusted.
There is nothing more annoying that a missed focus. Most of the time, it's not the lens's fault, but a bad setting of focus points, or bad aim, timing, harsh light or low light etc. What is unacceptable is a slow autofocus.
Spending the money once
If there is one thing I've learned, it's that it pays off to save up and buy the best quality you can afford. If you are looking to equip your camera for aviation photography, here's my main takeaway: get the highest quality possible, even if you can't afford it at the moment. There is no rush. There are also great deals to be made on ebay or any other second hand market.
Here is another way of thinking about it. The lenses described above, which are the zooms (or primes) you will use again and again without ever needing much else. They are the best choice, simply because they are the best that the manufacturers offer. There simply isn't anything better. The idea is that depending on your budget, you will get the best there is. It's a pretty simple choice actually. Since this a hobby, and a once-in-10-years purchase, I believe 1-2 thousand $ or euro expense is not excessive.
Conclusion
As planespotters, especially who photograph airliners, we only really needs 2-3 lenses. My point of this article is: it's best to invest in the best lenses out there, and save up if needed. The lens will stay with you for possibly way longer than 5 years, so it really pays off to put in the money and enjoy your hobby.
A good quality, professional tele zoom lens, either a 70-200 mm or 100-400 mm depending the camera body (crop factor/full frame)
A super wide angle lens, around 10-20mm for APS-C, or about 16-35 for a full frame. Primes can be very fast and offer greater quality, but the zooms are usually good and cheaper
A mid range zoom like the awesome Sigma 17-35 f/1.8 (!) Art or Canon's 16-35 f/4 IS USM
There you have it, I'm really interrested to see your take on the subject. I hope you enjoyed it, and that you gained some insights from this article.
Til next time!