So you want to fly on the magnificent beast that is the 747… The good news is, there's still quite a lot of airlines to choose from, wherever you live in the world. 22 to be exact!
Joe Sutter and his team at Boeing has managed to create an icon in the 60's, at a time where the largest passenger planes were half the size. In 2019, the 747 still performs and turns heads today, after almost 50 years of continuous service and multiple overhauls.
In this guide on how and where to fly on the 747, we'll look at all the remaining operators around the world and the routes that are still flown. Some of the airlines below will be phasing their 747s out beginning 2019, so if you want to catch the 747 of from favourite airline, you might have to hurry up!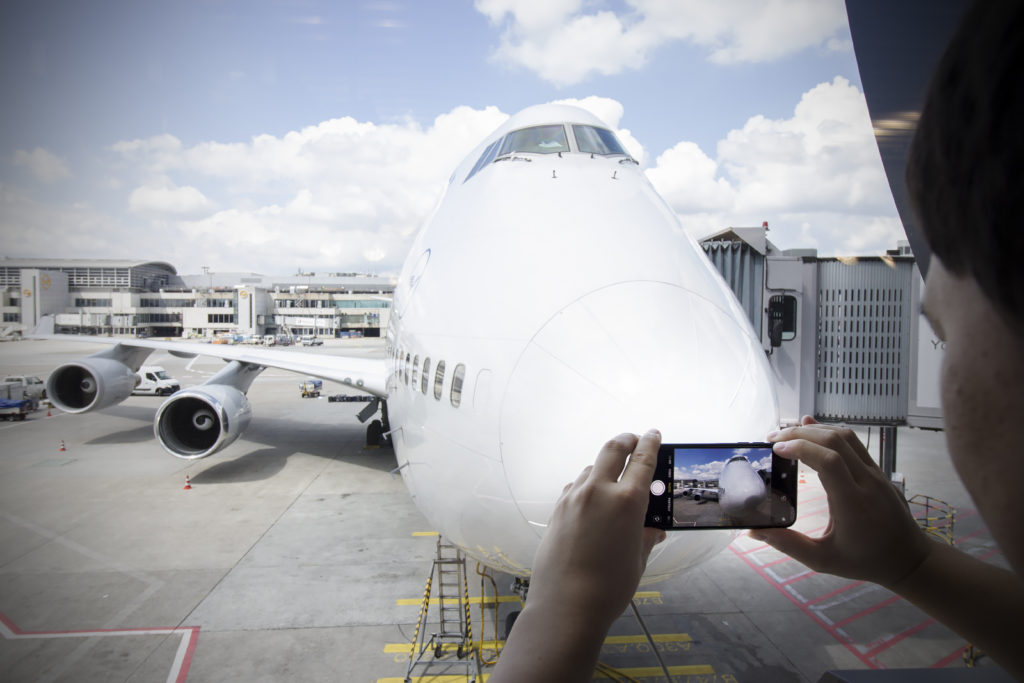 List of all 747-400 and 747-8 operators in the world
As of july 2019, there are 22 airlines operating the 747 for passenger flights. 3 airlines operate the 747-8i : Lufthansa, Korean Air and Air China. All other passenger 747 operators use either the 747-400, except Mahan Air, which uses a the classic 747-300 version.
For convenience sake, here is a list of all the operators, the numbers in fleet and expected date of retirement (as of july 2019):
| Airline | Types in fleet | Number in fleet | Comment |
| --- | --- | --- | --- |
| Air China | 747-400, 747-8 | 3, 7 | |
| Air India | 747-400 | 4 | |
| Asiana Airlines | 747-400 | 2 | |
| British Airways | 747-400 | 36 | Retirement by 2024 |
| China Airlines | 747-400 | 4 | |
| Corsair | 747-400 | 3 | |
| Flynas | 747-400 | 2 | |
| Iraqi Airways | 747-400 | 2 | 1 flying |
| KLM | 747-400 | 12 | Retired by summer 2021 |
| Korean Air | 747-400, 747-8 | 3, 10 | |
| Lion Air | 747-400 | 1 | |
| Lufthansa | 747-400, 747-8 | 13, 19 | |
| Mahan Air | 747-300 | 1 | Last classic 747! |
| Max Air | 747-400 | 4 | 3 are flying |
| Qantas | 747-400 | 10 | Retirement by 2020 |
| Rossiya | 747-400 | 9 | |
| Saudia | 747-400 | 7 | |
| Thai Airways | 747-400 | 8 | Retiring in 2020 |
| Virgin Atlantic | 747-400 | 8 | Retiring from 2019 |
| Wamos | 747-400 | 6 | |
Airlines still flying the 747 in 2018 – routes and details
Let's look into all the airlines that use the various versions of the 747. We'll look at the specificities of each operator, like configuration of the cabin, destinations and any other interesting facts. We won't go through all of the airlines listed above, but mainly focus on the largest or most interesting operators.
Air China 747-400 and 747-8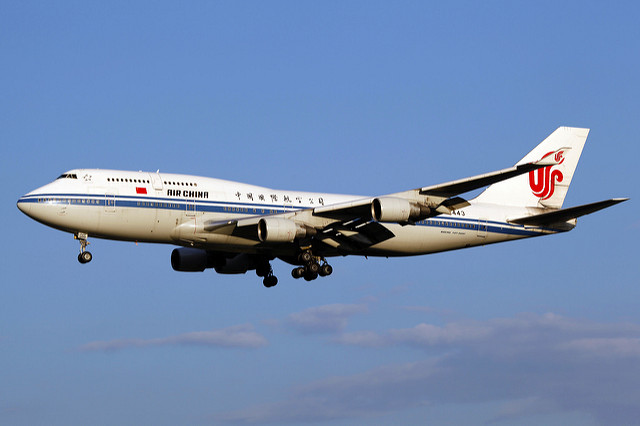 Air China is one of the 3 only operators of the latest 747-8. It's the -400 version that is currently the hottest, because with only 3 planes in the fleet remaining, it is not only harder to catch than the 747-8, but there is the risk of them being retired. They are one of the few only domestic 747 operators in the world!
Configuration | 747-8 (4 class), 747-400 (3 class)
Destinations
747-400 | Beijing to Guangzhou, Shenzhen, one aircraft seems to be used as backup to various destinations
747-8 | Beijing to New York, San Francisco, Frankfurt, Guangzhou, Shanghai

Air India 747-400
Air India maintains a small fleet of 4 aircraft. It is uncertain when they are planning to retire them, but given they are a large airline, I wouldn't be surprised if they keep them for a while longer, even as backup aircraft.
Configuration | 3 class
Destinations | Mumbai, Cochin and Hyderabad to Jeddah, Kolkata to Medina and various charters, domestic Mumbai to Hyderabad (around 40usd)
Asiana Airlines 747-400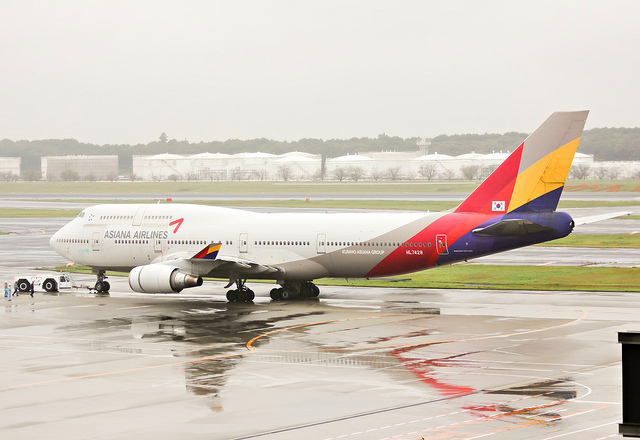 With a bit of luck, you can catch one of their two 747s on the 2-4h routes in Asia. It is unclear when they will retire, but maintaining 2 speciment of an aircraft in a fleet is never too economical for airlines.
Configuration | 3 class
Destinations | Seoul to Bangkok, Taipei,  Da Nang, Manila, Hong Kong
British Airways 747-400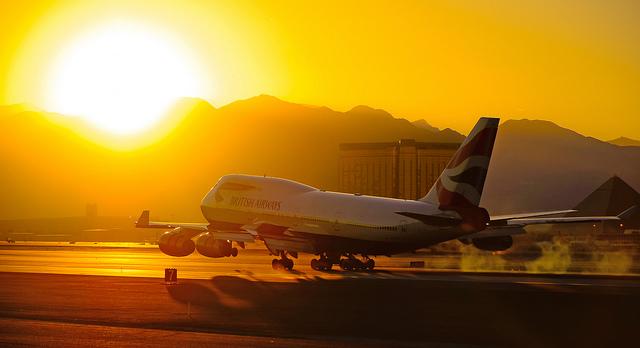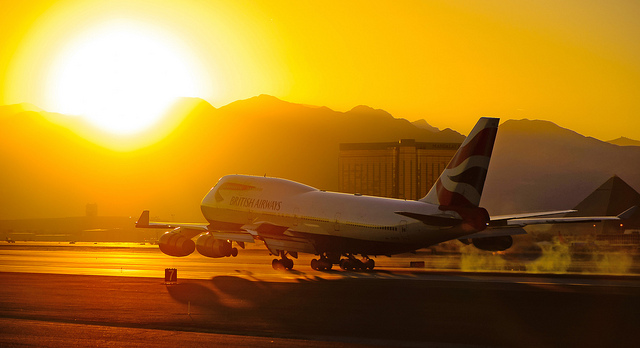 British Airways is one of the oldest, and today is the largest 747 operator in the world with 36 aircraft. The fleet is scheduled to be cut in half by 2021, and the last 747 is to be retired by february 2024. British Airways offers the largest choice of destinations, mainly in North America and sub-saharan and south Africa.
Configuration | 4 class
Destinations | London Heathrow to Accra, Beijing, Boston, Cape Town, Dallas, Dubai, Lagos, Las Vegas, Mexico, Miami, Nairobi, New York (JFK), Phoenix, San Francisco, Seattle, Toronto, Washington etc…
China Airlines 747-400
One of my favourite liveries! Air China has also been getting rid of their 747, maintaing mainly a fleet of the freighter versions. The Taiwanese airline has only 4 aircraft remaining, it's best to try them out sooner than later.
Configuration | 3 class
Destinations | Taipei to Seoul, Hong Kong, Guangzhou, Beijing, Naha, Shenzhen and occasianally Osaka
Corsair 747-400
As the last french 747 operator, Corsair International has 3 aircraft remaining, used mainly to fly to its overseas territories like Guadeloupe and La Réunion, but also to Madagascar and Mauricius. Corsair have equipped their high density 747s in a 3 class configuration with 537 seats. The upper deck is reserved for the 18 premium economy and 12 business class seats. The main deck is all economy.
Configuration | 3 class
Destinations | Paris ORY to Point-à-Pitre, Saint Denis, Antanarivo, Port Louis, Fort de France
El Al 747-400
Again, with only 4 aircraft in the fleet, catchin one in 2018 is fairly rare. Being allowed on the flight can be tricky if you're from one of the countries that don't have good diplomatic relations with Israel.
Configuration | 3 class
Destinations | Tel Aviv to New York, Paris, London LHR, Bangkok
Iraqi Airways 747-400
Here is probably the most exciting 747 operator of them all! I can harly imagine how one would get an opportunity to fly on one of these, given the current situation in Iraq. They currently seem to operate only one aircraft, the second one last logged a flight in july 2018.
Configuration | ? class
Destinations | Baghdad to Kuala Lumpur, Amman, Cairo, Beirut
KLM 747-400 and 747-400M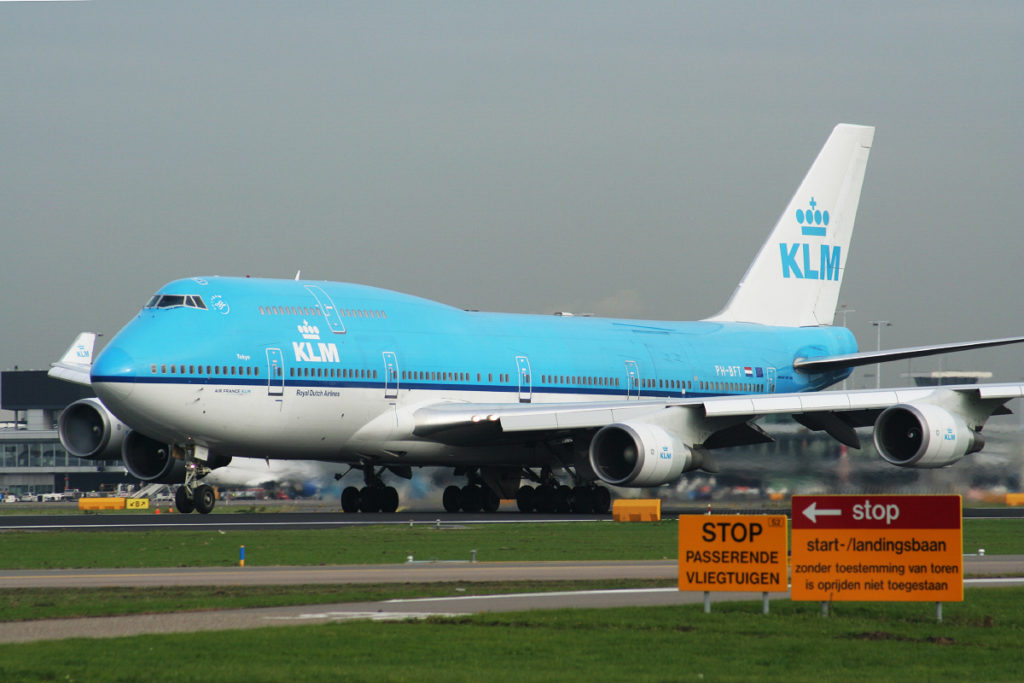 KLM is one of the oldest operators, and still maintains a fleet of 12 747-400s. KLM is also the only remaining 747-400 Mixed (cargo and passenger) version operator in the world. The numbers are dwindling though, and their last 747 is to depart the fleet by summer 2021. If you can't make it on a long haul don't worry – KLM traditionally operate farewell flights before retiring their aircraft. Although when I tried booking the MD-11 flights, only 1 hour after bookings opened, they were already sold out…
Configuration | 3 class
Destinations | Amsterdam to Chicago, Los Angeles, Paramaribo, Mexico City, New York JFK, San Francisco, Toronto, Curacao,  Hong Kong, Seoul and Nairobi
Korean Air 747-400 and 747-8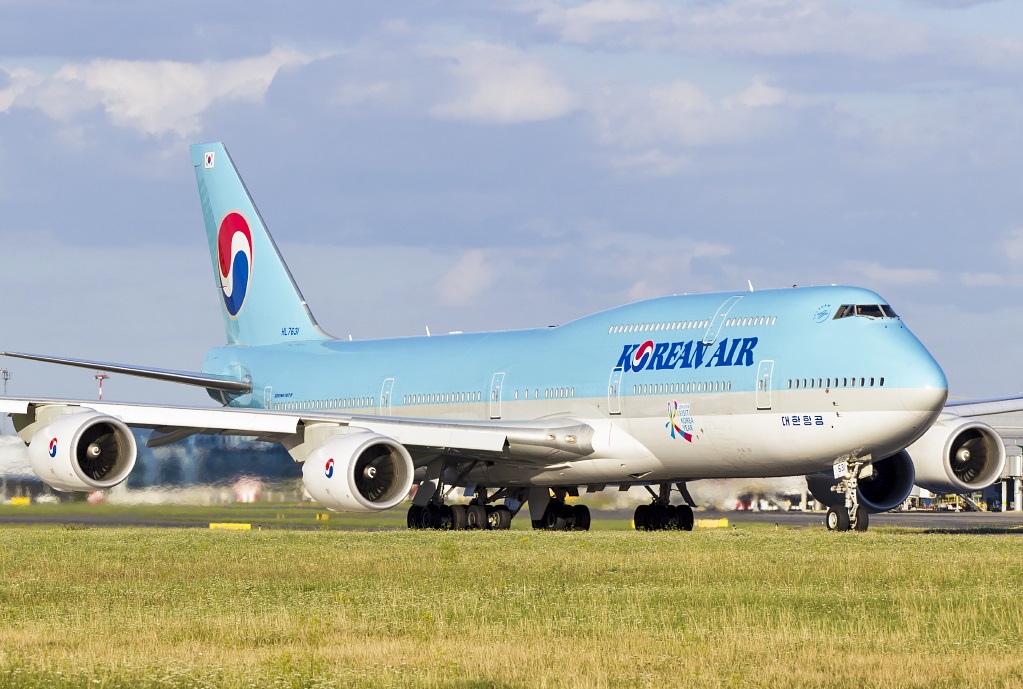 Korean is also one of the 3 airlines that operate both the 747-400 and the 747-8. The -8 versions still have plenty of life ahead of them, but it is unknown how long the 3 -400 versions will stay with the airline. To get an idea of what you can expect, check out this review of a 747-400 flight from Seoul Gimpo to Jeju. This perticular 747-400 has economy class in front of the wing, which is a rare occasion to enjoy a great wing and engine view without breaking the bank!
Configuration | 3 class
Destinations
747-400 | mainly as substitute aircraft type Seoul to Bangkok, Prague, Manilla, Tokyo, Shenyang,
747-8 | Atlanta, Hong Kong, Frankfurt,  London, Los Angeles, Osaka, Prague, Rome, San Francisco
Kuwait Airways 747-400 (retired may 2019 🙁 )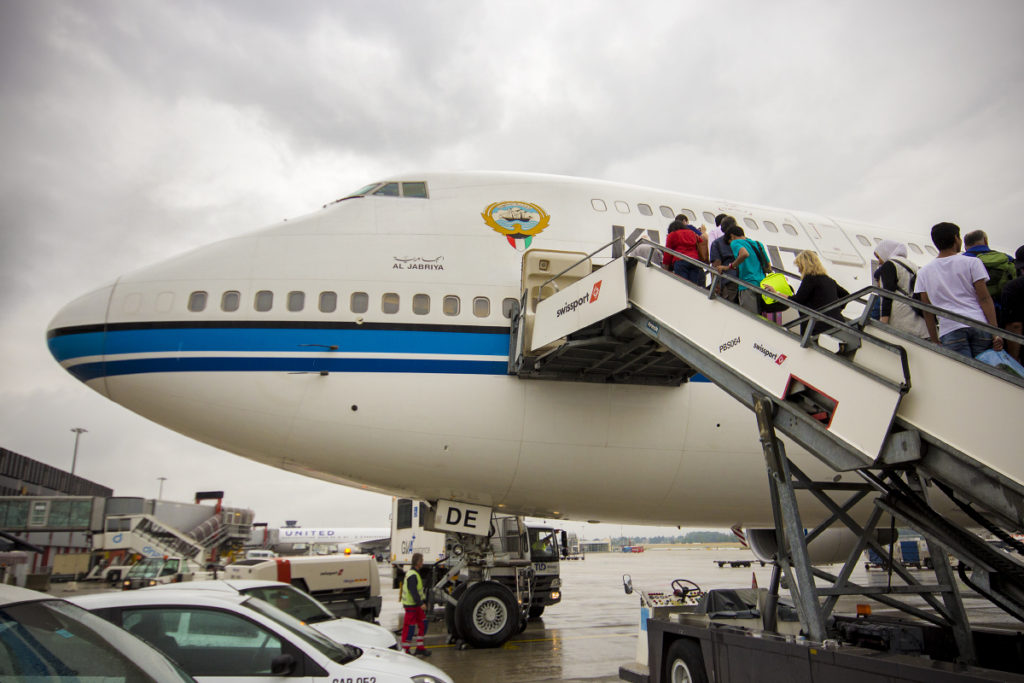 This is possibly one of the most interesting speciment is the only Kuwait Airways 747, which is also used by the Emir of the country for his state visits. The aircraft has a beautiful retro interior with old business class seats and tiny flight entertainment screens. During the flight, the upper deck is not accessible as it is used by the Emir when the plane is flying private.
It used to operate the Kuwait – Frankfurt – Geneva fifth freedom route on rare occasions replacing the usual A340-300, but the route has since been discontinued. Now it only flies in the middle east.
Configuration | 2 class
Destinations | Kuwait City to Dubai, Jeddah and Cairo
Lion Air 747-400
Lion air, the low cost carrier from Indonesia, has currently one single 747-400 which it uses on domestic flights. This plane has a long flying history starting in 1989, when it first flew for 15 years for Singaport Airlines, then got leased to Iberia by Air Atlanta Icelandic, went to Oasis Hong Kong before ending up with Lion Air.
Configuration | ? class
Destinations | Jakarta to Medan and Batan
Lufthansa 747-400 and 747-8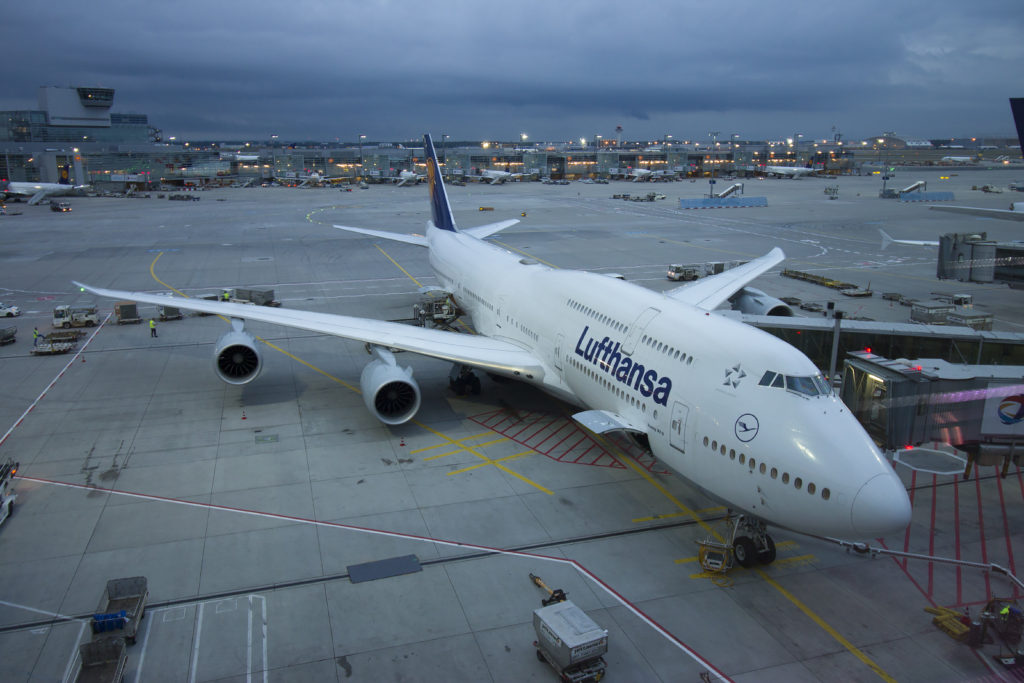 Lufthansa is the second largest passenger 747 operator in the world. They are also the last of the 3 airlines that have both the 747-400 and 747-8. Basically, there is no need to rush here, there are not clear dates for when they want to phase them out. Which is commendable, as lufthansa tend to use their planes for the most of their intended life span.
Configuration | 4 class
Destinations
Boeing 747-400 | Denver, Orlando, Osaka,  Tehran, Toronto, Vancouver
Boeing 747-8 | Bangalore, Boston, Buenos Aires, Chicago, Mexico City, New York JFK, Rio de Janeiro, Sao Paulo, Tokyo, Washington

Mahan Air 747-300
Mahan Air is without a doubt the highlight of this list. It wins as the only active passenger 747-300 in the world! What's best is that EP-MND is relatively easy to catch, you just have to go to Iran which is a very enjoyable country. The aircraft does daily flights to Bandar Abbas and Kish Island, and during the off season mostly to Meshed. This is the last chance possibly ever to fly on a classic 747!
Configuration | 2 class
Destinations | Tehran Mehrabad to Bandar Abbas, Mashhad, Kish Island and others
Max Air (uncertain)
Max Air is possibly the most mysterious 747 operator of them all. They seem to currently be flying 3 aircraft out of 4 listed as active, and all of them fly daily flights from Nigeria to Saudi Arabia, most certainly for pilgrims. The flights are not listed on their website, so they must be charters. There is therefore a very low chance of being able to get on their 747.
Configuration | 2 class
Destinations | Kano, Abuja to Medina, Abuja to Jeddah, Niamey to Medina
Qantas 747-400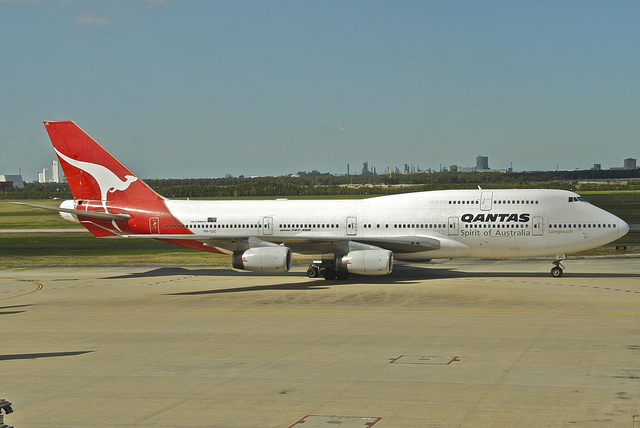 Qantas 747s are soon to be retired, in 2020 to be precise. They have still 10 pieces left, which leaves enough opportunities to try them out. Fortunately, australia takes extra good care of their planes. They even preserve them after they're done flying, by landing them on small regional airports (see the story about City of Canberra).
Configuration | 3 class
Destinations | Sydney to Hong Kong, Honolulu, Johannesburg, San Francisco, Santiago de Chile, Tokyo Haneda, and Vancouver ; Brisbane to New York via Los Angeles
Rossiya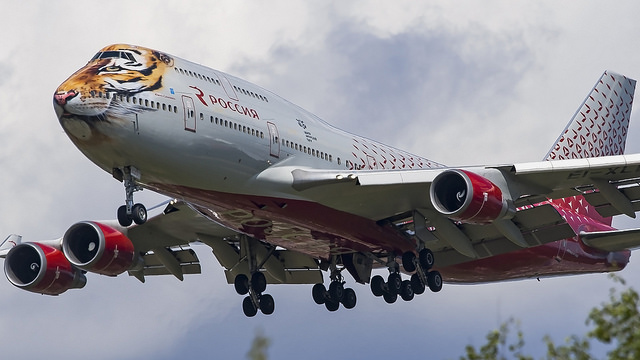 Rossiya ended up with 9 747s on their hands after they incorporated the bankrupt Transaero. It is uncertain of how long they will be keeping them, but for now, they seem to be flying them happily mostly to asian holiday destinations. Rosiya is famous for their Tiger-nosed jumbo which must consistently give local birds instant heart attacks.
Saudia 747-400
These 747s are hard to catch. All flights originate in Saudi Arabia, so unless you're just transiting, have a business visa or go on a religious visit, you won't be able to fly with them. What's more, 747 flights are not scheduled, and it seems like they are charters for pilgrims. It would be a rare catch for certain! With 6 aircraft left, it is unclear how long they will remain in service.
Configuration | 3 class
Destinations | Charters from Jeddah and Medina to Khartoum, Cairo, Delhi, Surabaya, Batam, Meshed, Hyderabad etc…
Thai Airways 747-400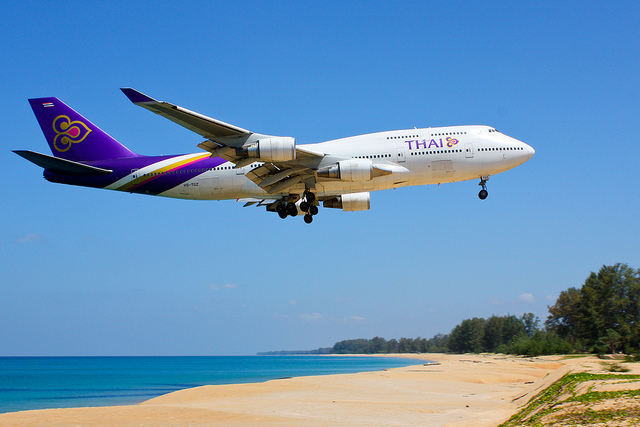 Thai airways is one of the rare domestic 747 operators. You can catch it on the 674 km flight from Bangkok to Phuket if you just want to give it a quick spin!
Configuration | 3 class
Destinations | Bangkok to Hong Kong, Mumbai, Munich, Phuket, Seoul, Sydney, and Tokyo HND
Virgin Atlantic 747-400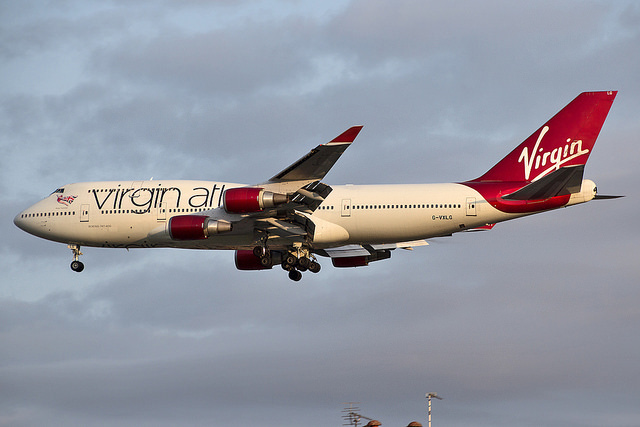 The famouse Airline of bilionnaire businessman Richard Branson, who also plans to take us to space with Virgin Galactic. They only have a few 747s in their fleet, and they are to be retired starting in 2019. Get the classic Red Girls while you can!
Configuration | 3 class
Destinations | London Gatwick to Bridgetown, Cancun, Havana, Las Vegas, Montego Bay, and Orlando
Manchester to Bridgetown, Las Vegas, and Orlando
Wamos 747-400
Wamos operats mainly leisure charter flights using high density jumbos. They also operate ad-hoc charters, between North and South America and the Middle east. The safest way to book a flight is on of their sheduled routes, through the official website.
Configuration | 2 class
Destinations | Madrid to Varadero via Guatemala City, Madrid to Punta Cana and Cancun
and ad-hoc charters
Why is the Boeing 747 being phased out
The aircraft was created at times where fuel prices weren't a major concern for airlines. As a result, having 4 engines on a longhaul plane wasn't a big issue. Airbus and Boeing, with the help of engine manufacturers, continued developing aircraft with better and better fuel efficiency, which gave rise to the large twin jets like the 777, 767-400, A330, 787 and A350 which used less fuel than their 4 engined counter parts.
The mid 1980's, saw the advent of ETOPS operations, which allowed twin engined widebody jets to fly for extended periods of time without an alternate airport in a 120 minute range.  On many routes, this meant that the 747 wasn't the only option anymore.
Lastly, air traffic worldwide has seen a rise in point-to-point routes, which are direct flights between secondary cities. These only rarely require large capacity aircraft like the 747. All these factors contributed to the slow decline the use of 747s (and A380s for that matter) for passenger flights. On the other hand, the cargo versions of the 747 remain highly in demand because of the different economics models.
Boeing 747 books and collectibles
If you're interested in the story behind the development of the 747, there is a great book by Joe Sutter, the lead engineer of the project, with a lot of interesting engineering and personal anectodes and insights. You can check it out on Amazon via the image on the right:
If you enjoy diecast airplane models, check out my detailed guide on the best diecast brands. I go through all the well established brands, with a pricing breakdown, where to buy, what to look for and setup ideas.
Conclusion… let's fly!
I hope you enjoyed this 747 flying guide. Do you have any cool 747 stories? What was your first flight like on the 747? If you know of any other 747 operator, or notice any mistakes, please let me know. Now that all has been said… Long live the queen!
Til next time…