Flying is great. What's even better, is flying on a boat, powered by a 675 shp turbojet engine, taking off towards the Pacific Ocean! This is the story of when Keishi and I took our first ever seaplane flight, from Richmond to Nanaimo.
The seaplane flights were the pinnacle of our trip to Vancouver. Where I'm from, there is no such thing as flying on water. The only people that do fly on water are badass firefighters and a few private mavericks. In 2018, I don't believe there is a single Seaplane scheduled airline in Europe. But feel free to correct me if I'm wrong.
Seaplane operators and airlines in Vancouver
In Vancouver, the choice is comfortable. There are three main companies, Harbour Air (comprised of Harbour Air, Saltspring Air and Whistler Air), Seair Seaplanes and Kenmore Air. All fly from Vancouver Harbour on the North side of downtown and YVR Sea Harbour, also called Richmond, south from YVR international airport except for Kenmore.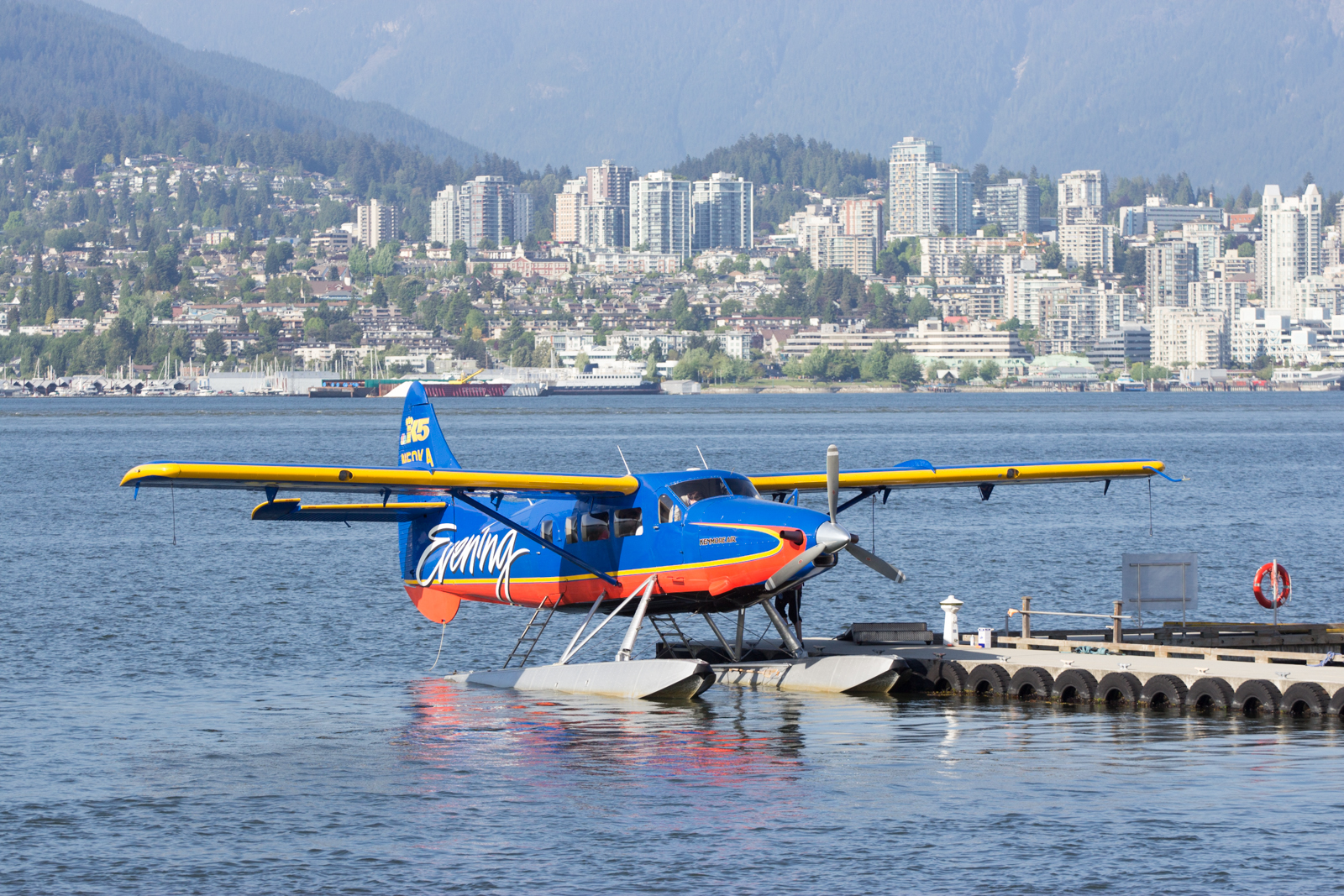 As for the types, Harbour Air mostly fly De Havilland Single Otters, two Twin Otters, a few Cessna 208 Caravans and still quite a few classic Beavers. Seair has Caravans, Beavers, Turbo beavers and 185 Skywagons. The Beaver was a no brainer. As it turned out, given our plans, the Beavers are not easy to catch on scheduled flights, especially to Vancouver Island where we were headed.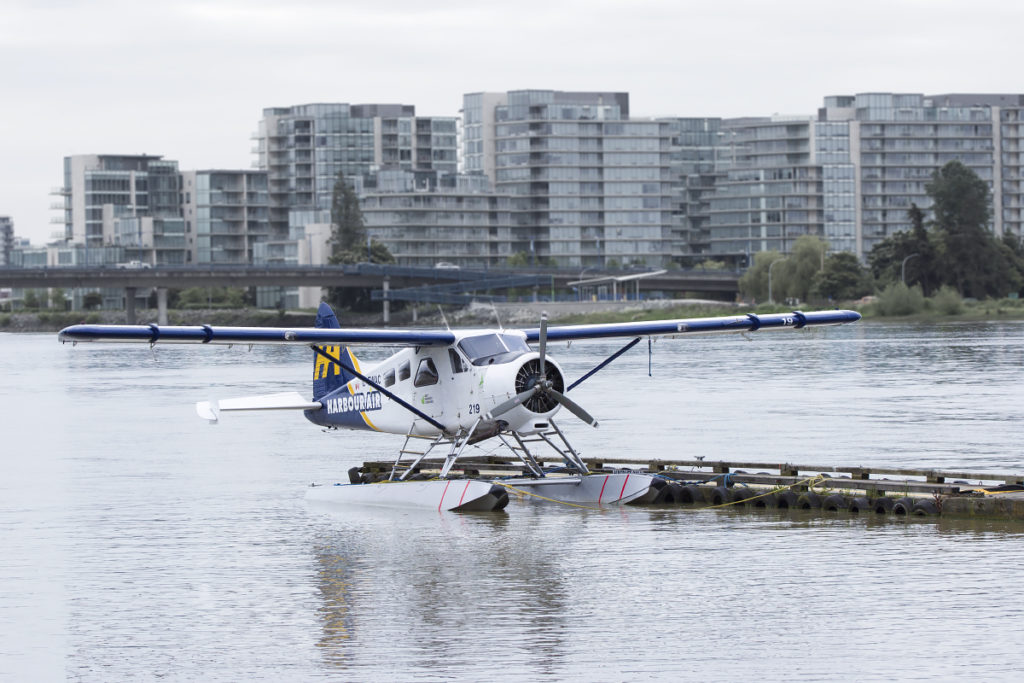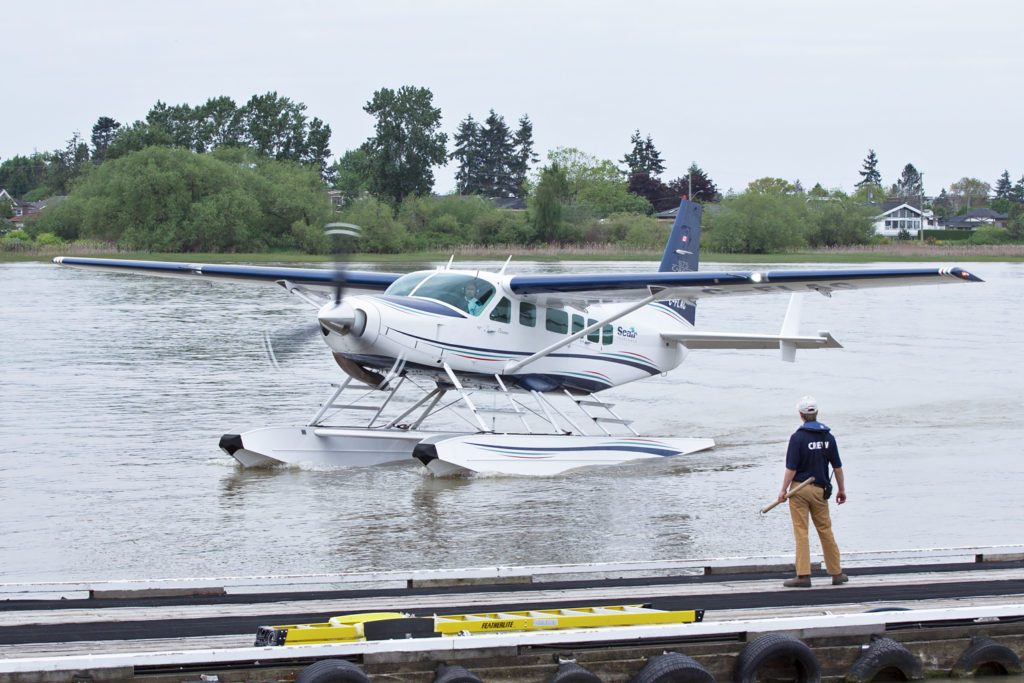 The second most obvious candidate was the Twin Otter, which is pretty hard to catch, even in Canada it turns out. Just look at them… with their short nose and tiny looking yet certainly pretty powerful engines!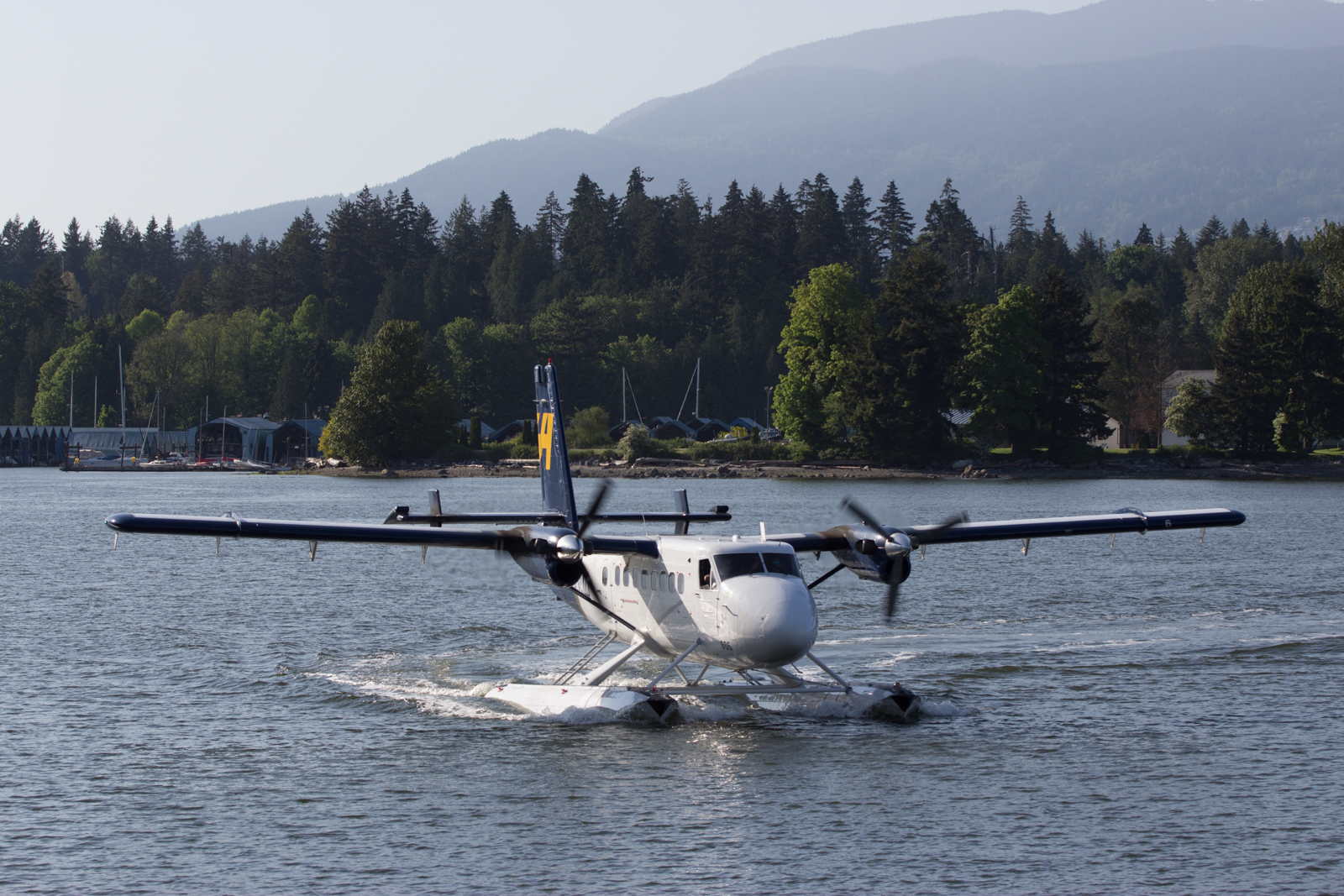 Still at home, after a few hours of back and forth with Keishi over the phone and chat, we decided to take one flight on a Harbour Air's Twin Otter from Victoria to Vancouver Harbour. For our first ever float plane flight, we decided to wait after arriving to Vancouver, in order to try to get on a Seair Beaver flight to Nanaimo from Richmond (YVR).
Checking with the sales people at Harbour and Seair, we realized the Beaver flight would probably not materialize. Harbour air mostly uses them for the tours, and Seair adds Beaver flights to existing flight numbers when the Caravans get full during high demand. We ended up booking online a morning Caravan flight.
The Vancouver shuttle miscommunication
On the 18th may morning, after a quick breakfast at the airport, we had about 45 minutes before departure. The info desk pointed us outside the terminal ground floor to the airport free shuttle. Strangely though, the driver told us that it was a 45 minute walk from the South Terminal bus stop to the Richmond seaplane harbour. As we didn't know better, and didn't have much time to find a better solution, we took it at face value and took a 15$ cab to the harbour, only to learn that the bus stop is no more than a 5-10 minutes walk from the sea terminal. Oh well…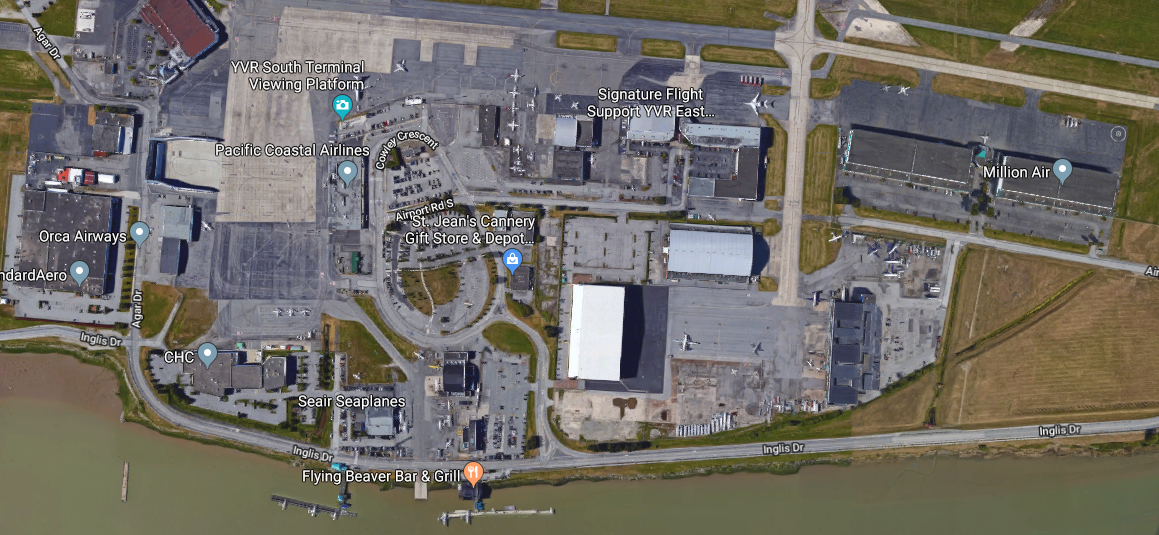 I hear you. Here's a bit fancier view of the piers, from another day: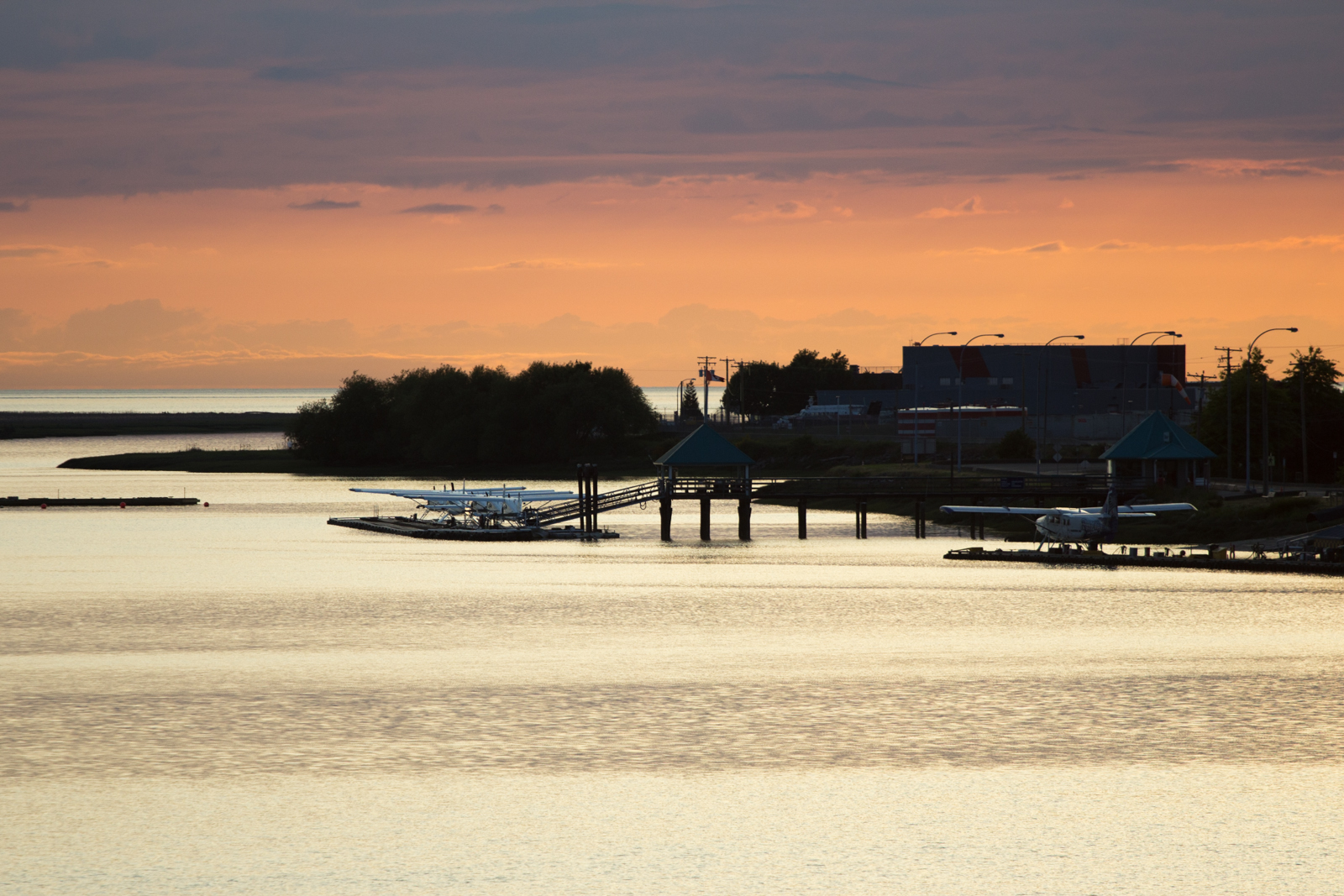 Time to do some splashy splashy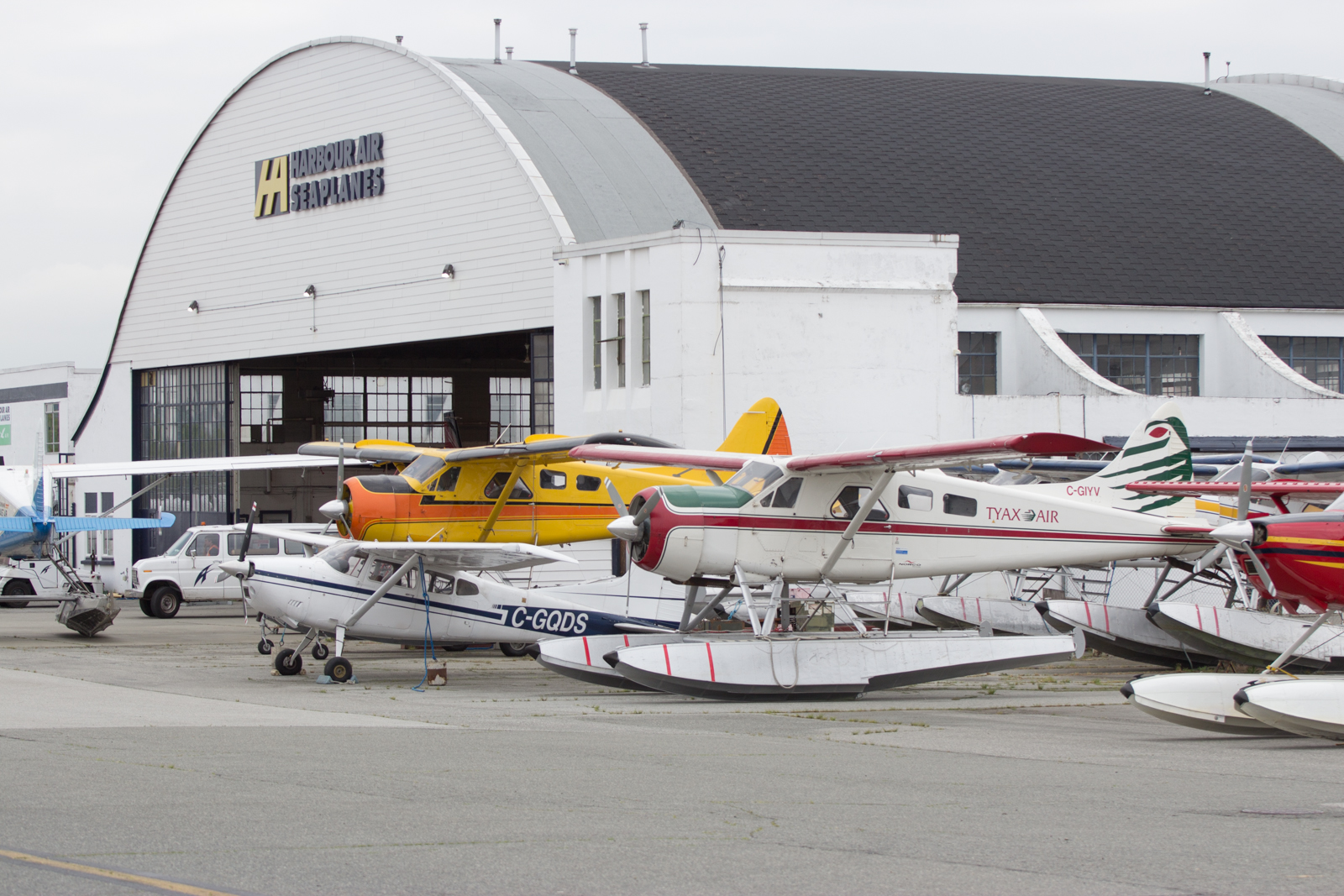 This was most certainly the closest I've ever been to flying private, or flying before 1973 in the US when security checks were instated.. We just came up to the counter, got our bags weighted, and waited for our flights to get ready.
At the airport, there was this cool contraption as well (with our pilot checking out our plane):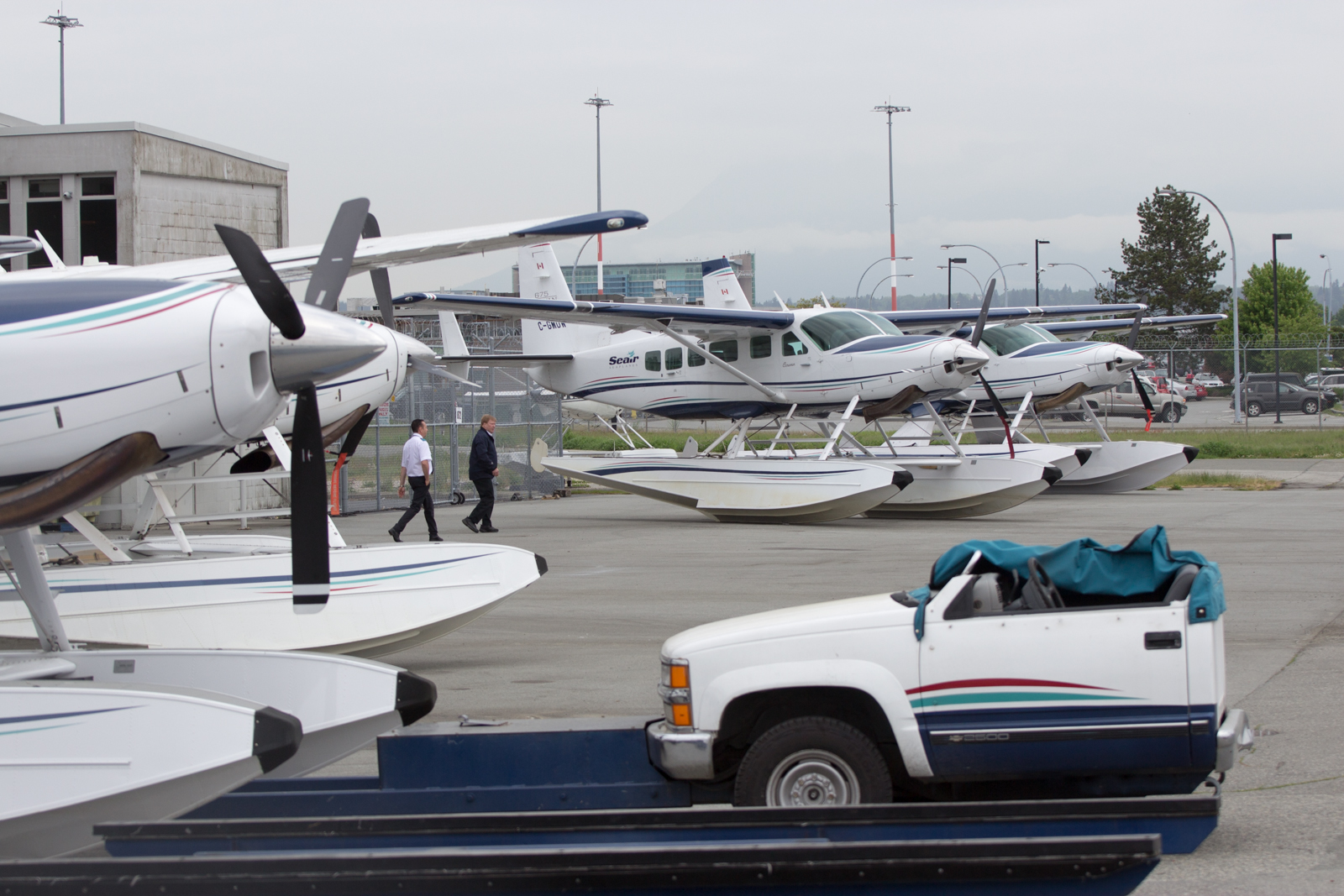 About 30 minutes before departure our plane, C-GMOW, the Cessna 208 got pushed in from the airport, and taxied to the dock.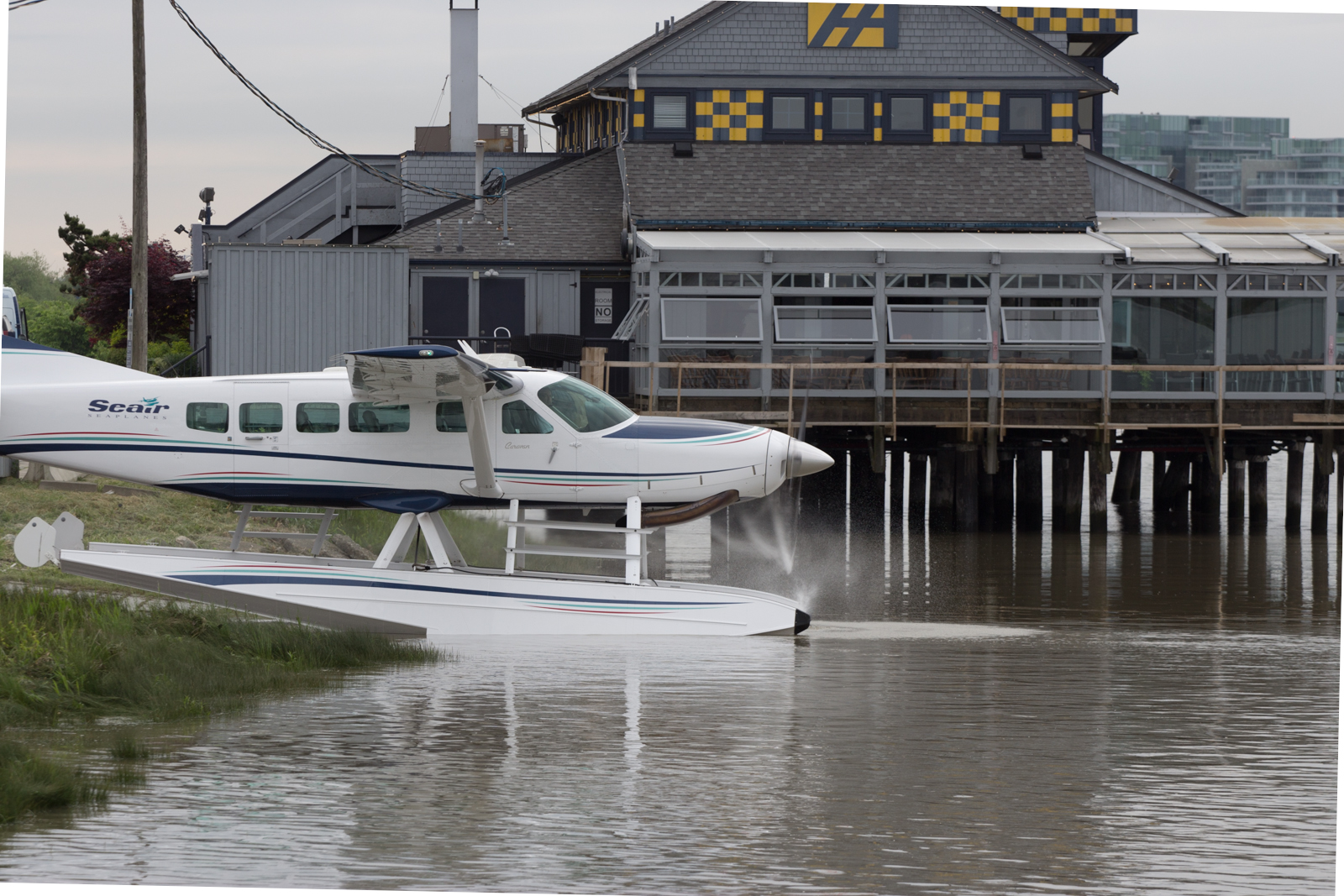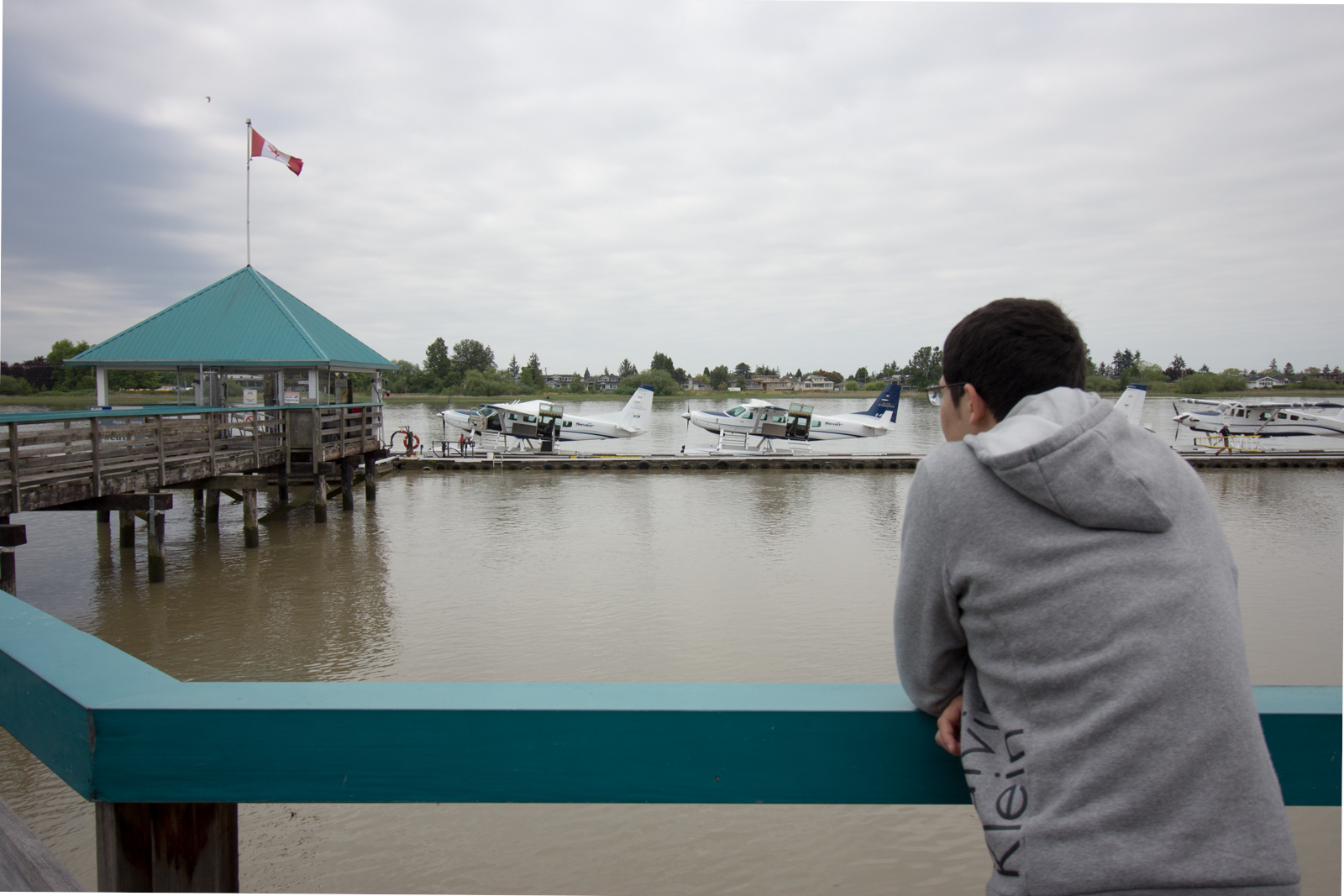 The flight was half full, and after a quick security brief under the shed, it was time to get to our machine. Let me tell you, that thing is imposing in person.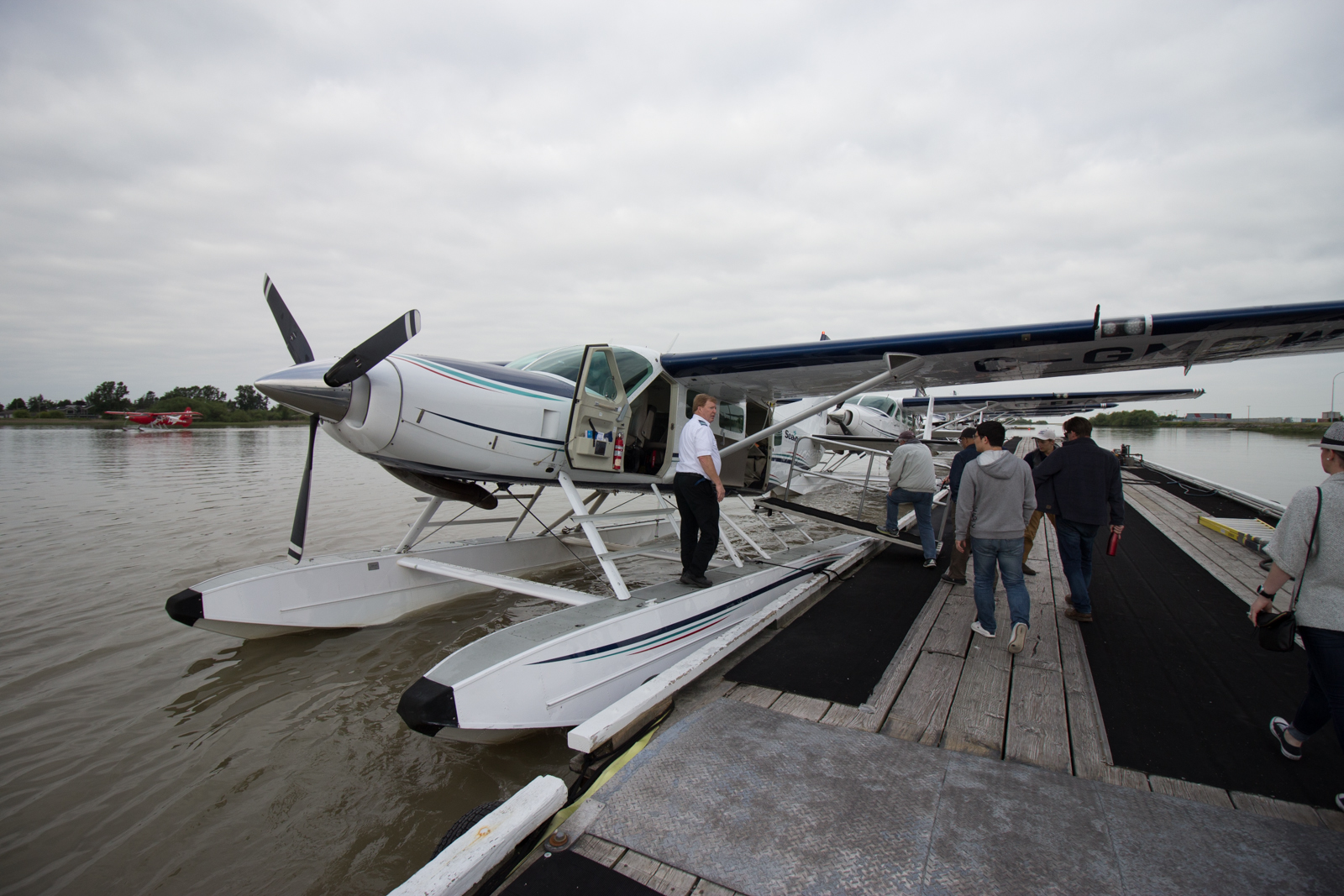 Even inside, it's pretty comfy. With a young girl sitting up front, we got to hear all the explanations of what the pilot was doing, up until takeoff, where the sounds of the propellers took over.
After backtracking the estuary for a few hundred meter, it was show time! And, unlike what I was expecting, the takeoff roll was smoother than a Craig Ferguson interview! Now granted, the water was calm, but still!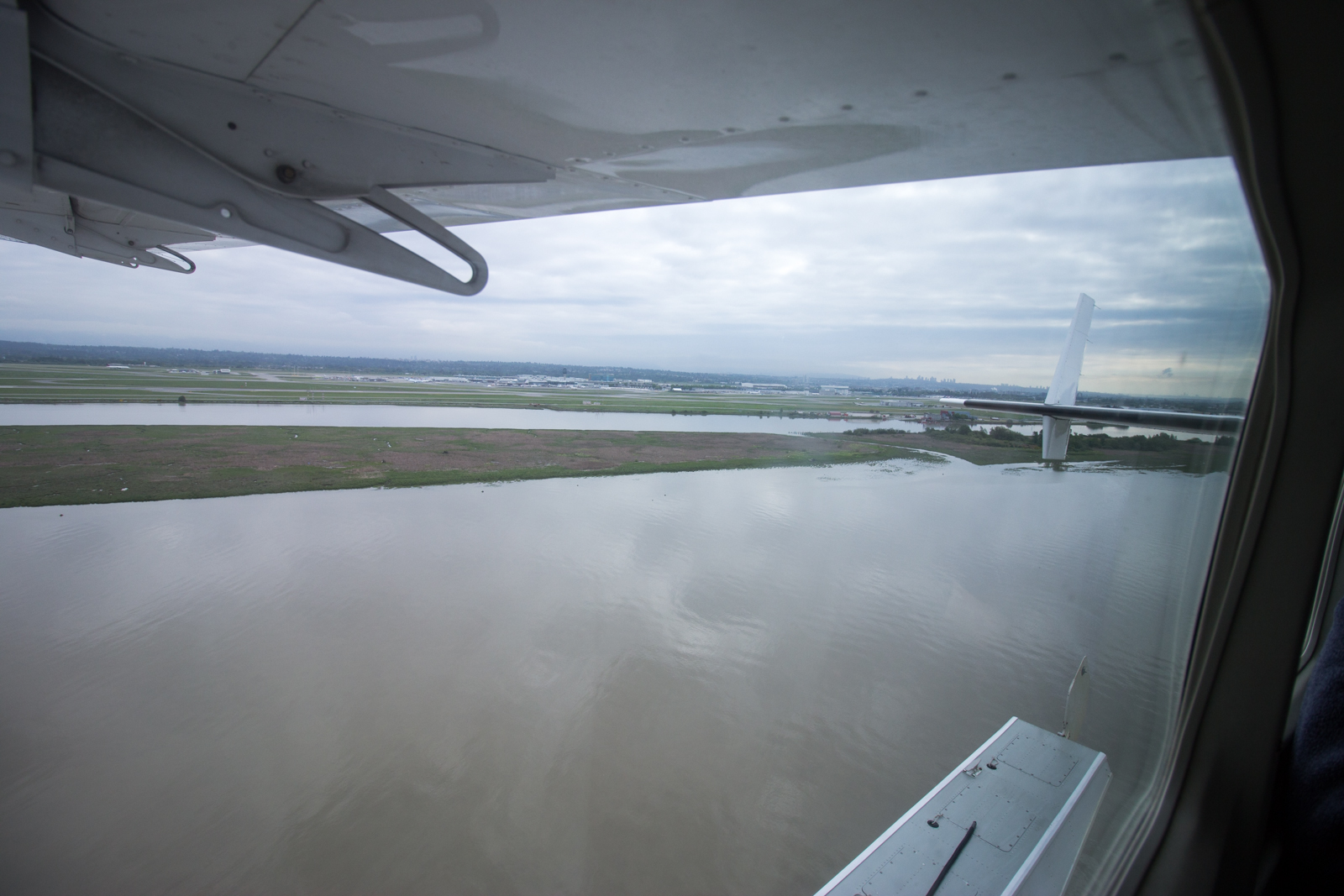 The waterway goes more or less parallel with nearby runway 33L, which can be seen on the image above.
We initially climbed to about 300 feet, and then later to 700 feet, and stayed there for a good 5-10 minutes.
The flight was pretty short – just about 20 minutes. Yet, the flight attendants still got time to serve a whole hot meal service! (photo got accidentally deleted, sorry..). Instead, please enjoy this wing view with Vancouver Island.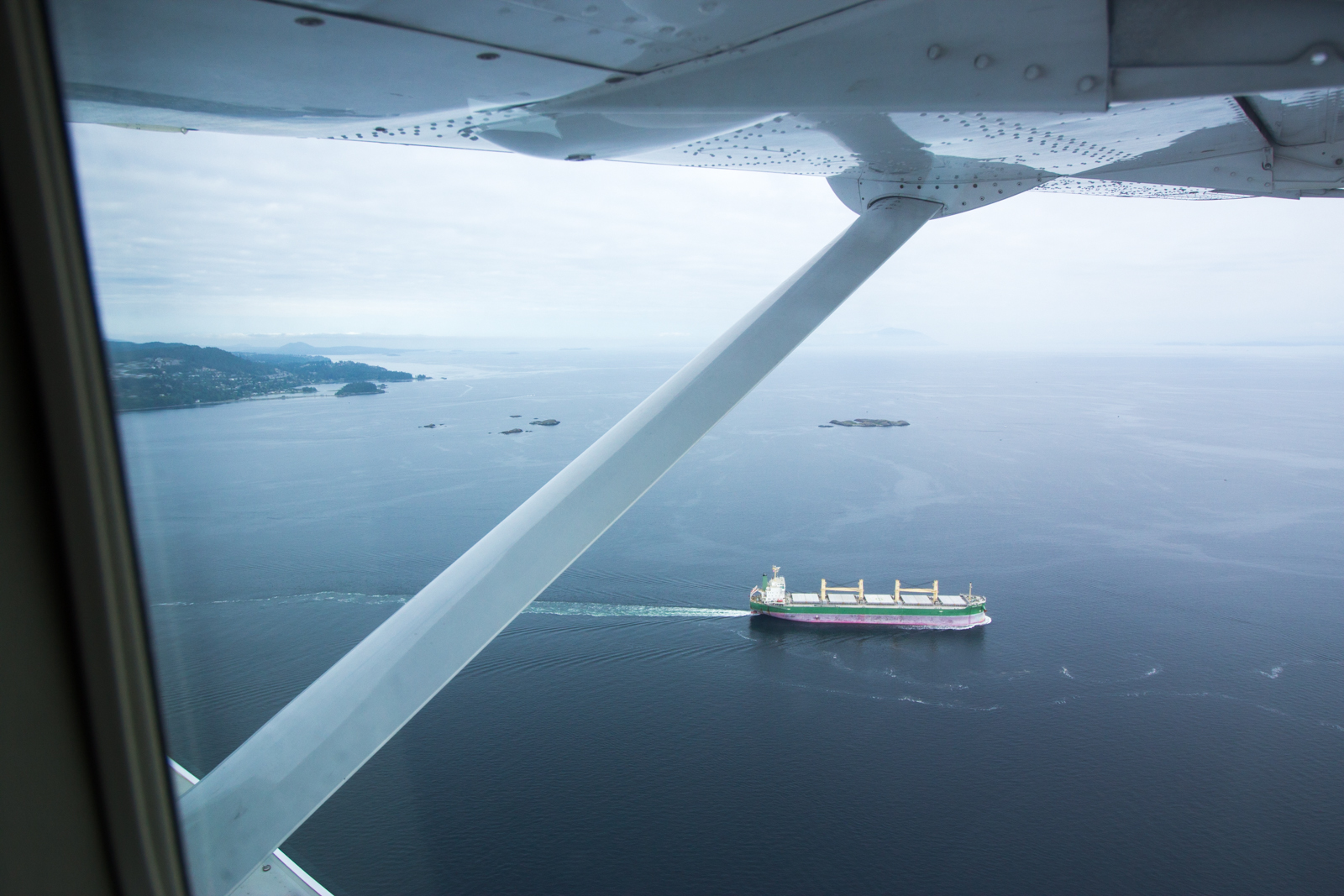 Sporty landing in Nanaimo
The best action was yet to come, in the form of a tight left hand turn into Nanaimo's Departure bay.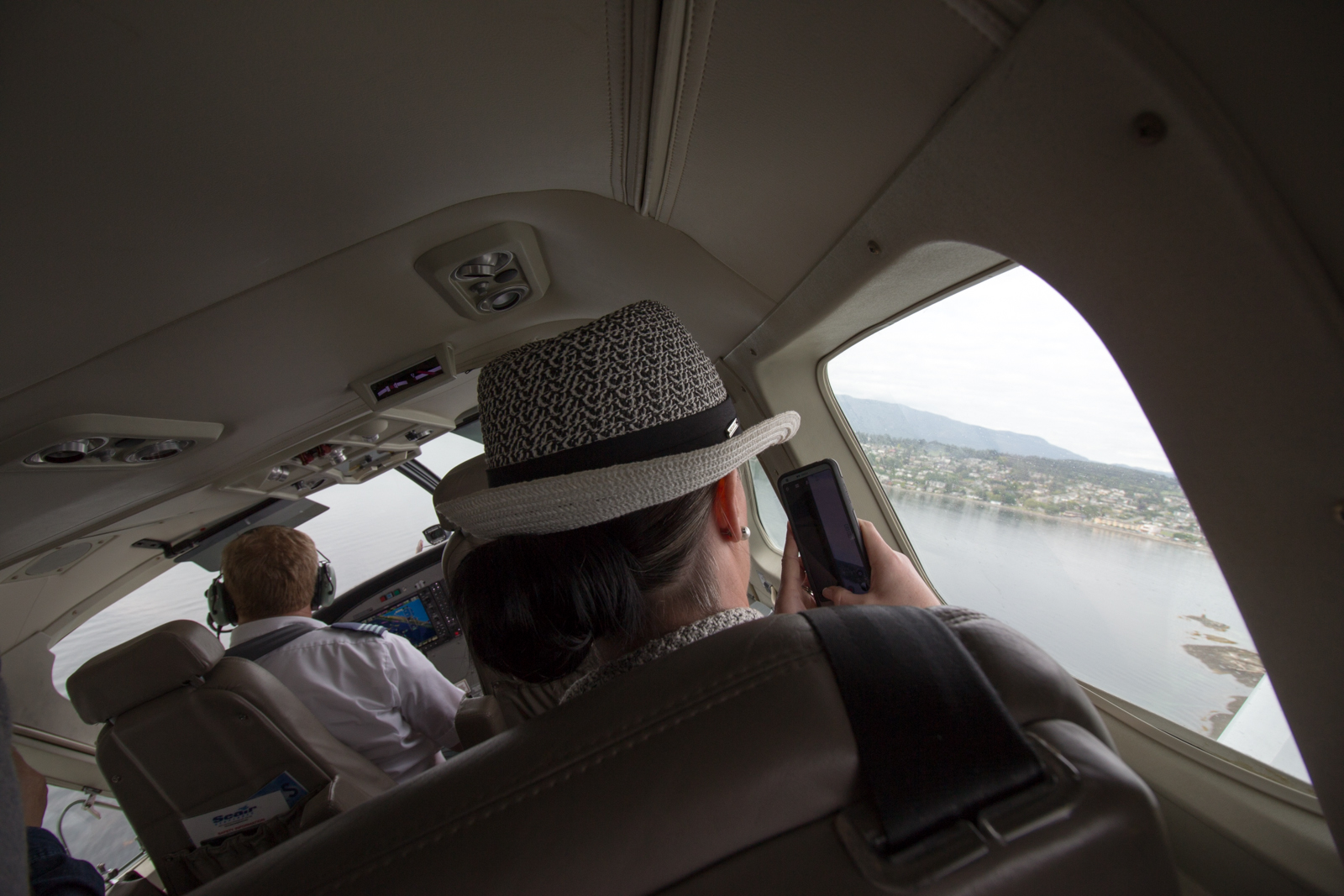 The landing was, again, almost disappointingly smooth, and things only got a bit bumpy… as we slowed down. That pitch angle, even at slow taxiing speeds, is pretty intense though!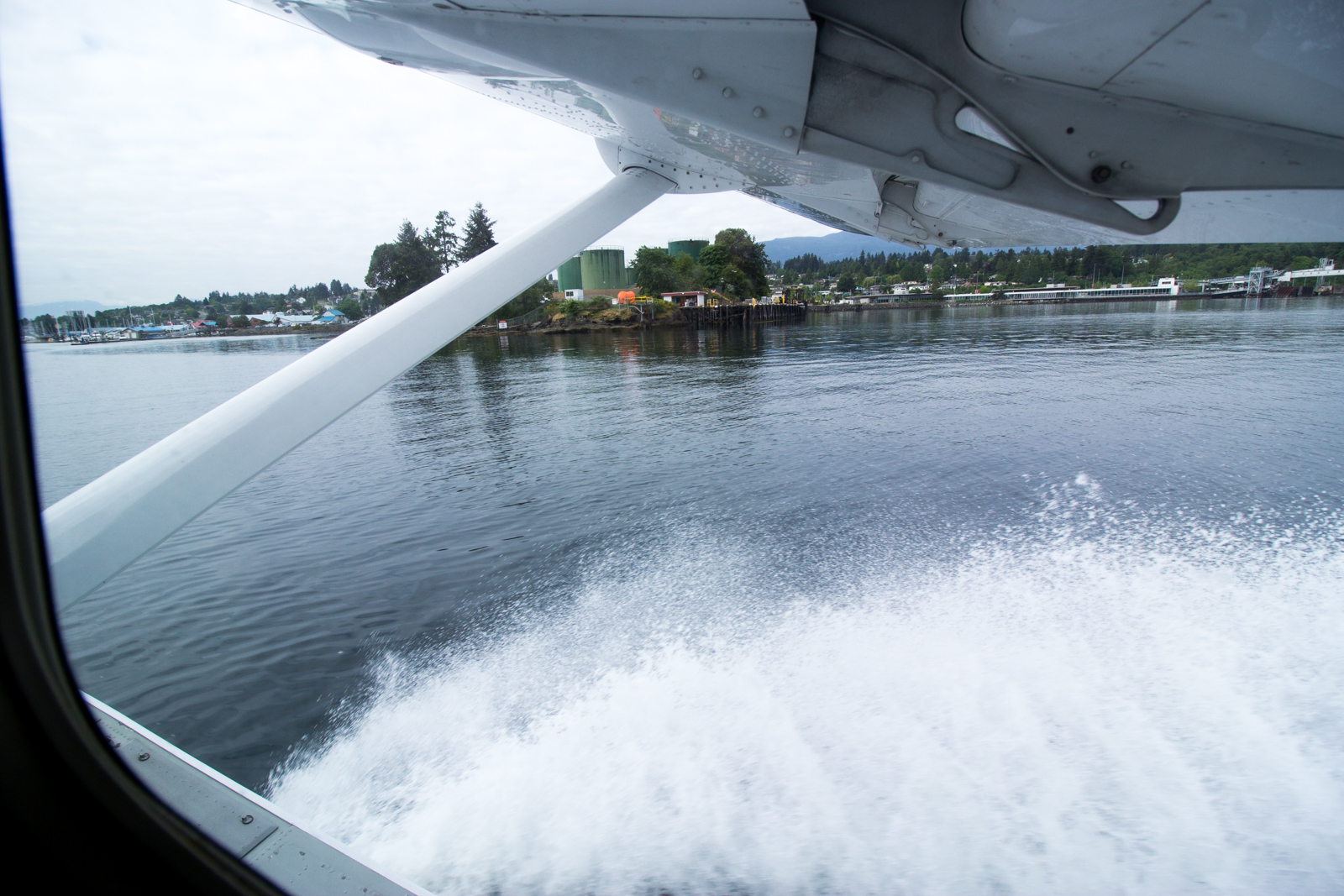 After landing, we just got off the plane and voila! We were in the Canadian wilderness (sort of).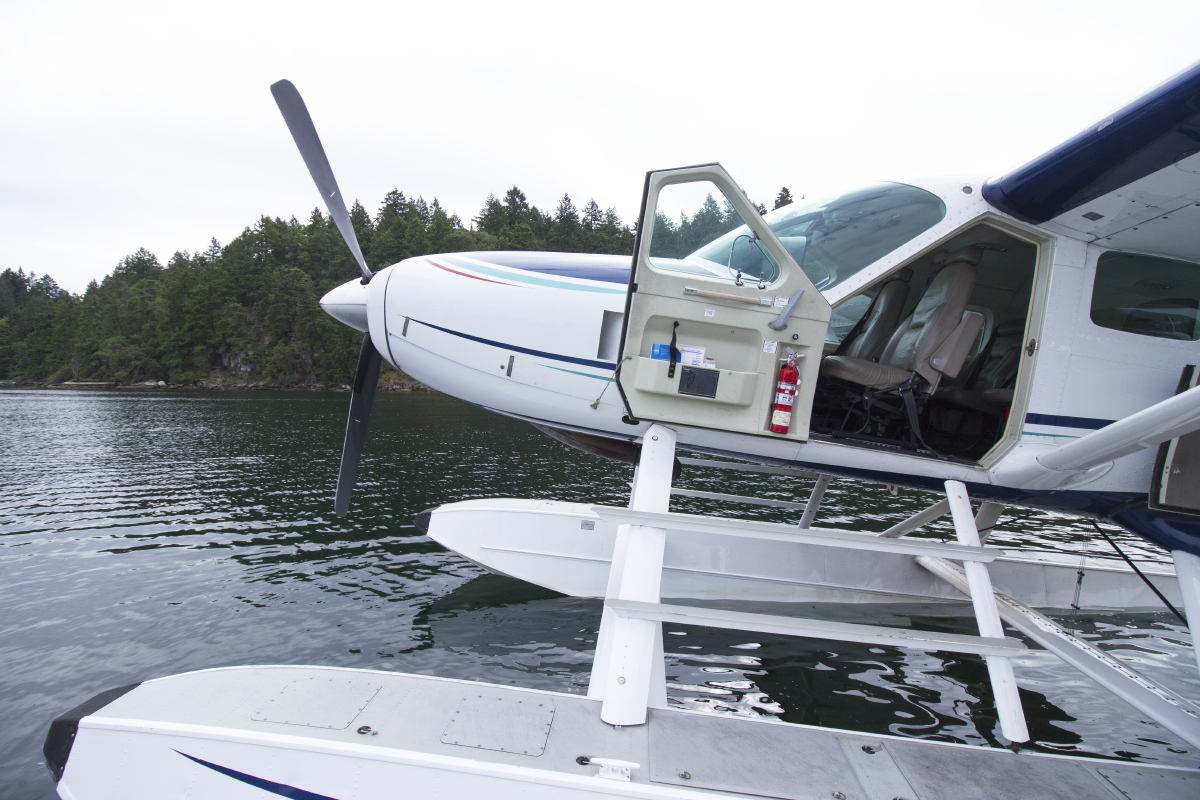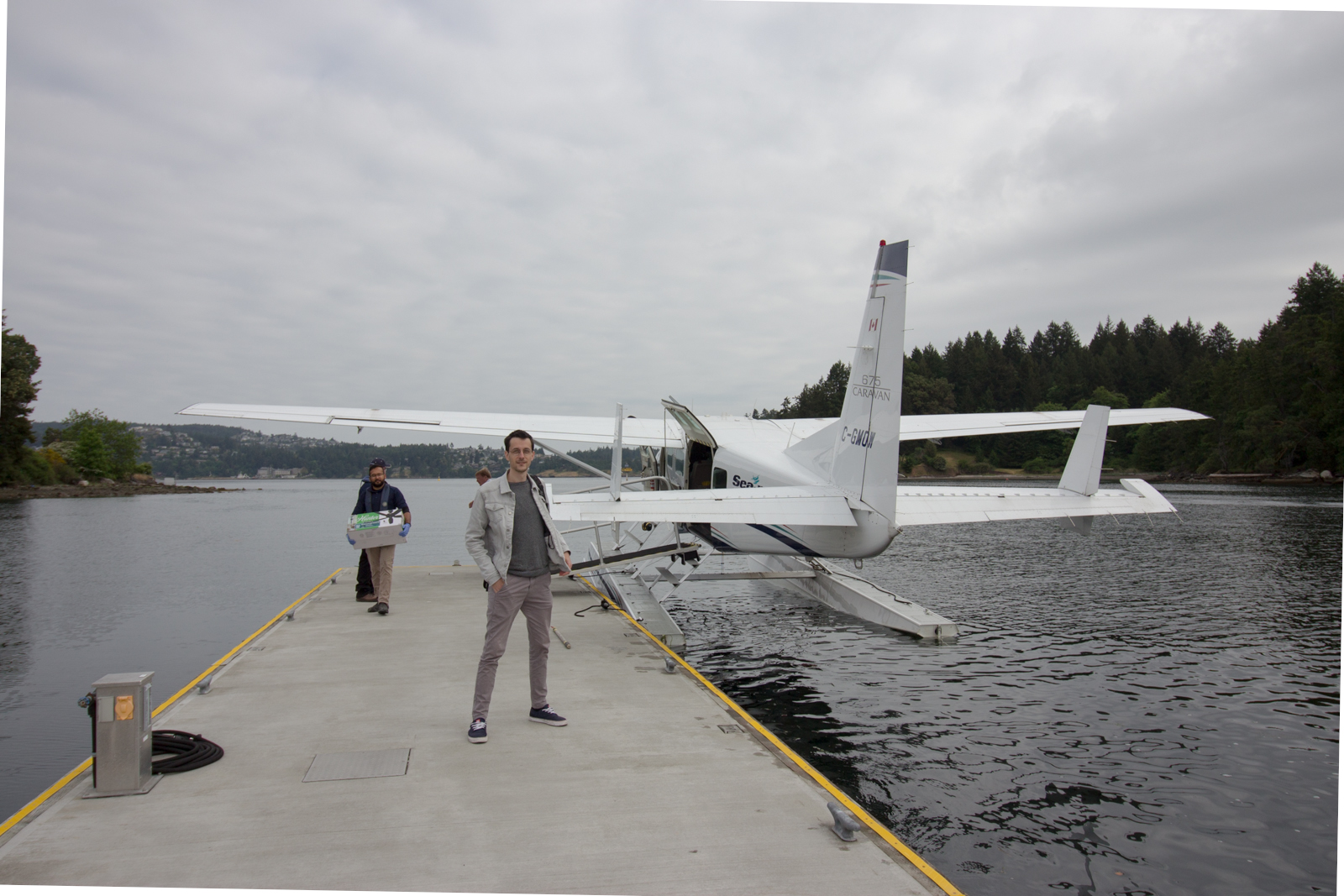 After landing, we had about 3h to spare before catching our bus to Victoria, and our return flight to Vancouver the next day on the Twin Otter. I'll cover that one in the next article.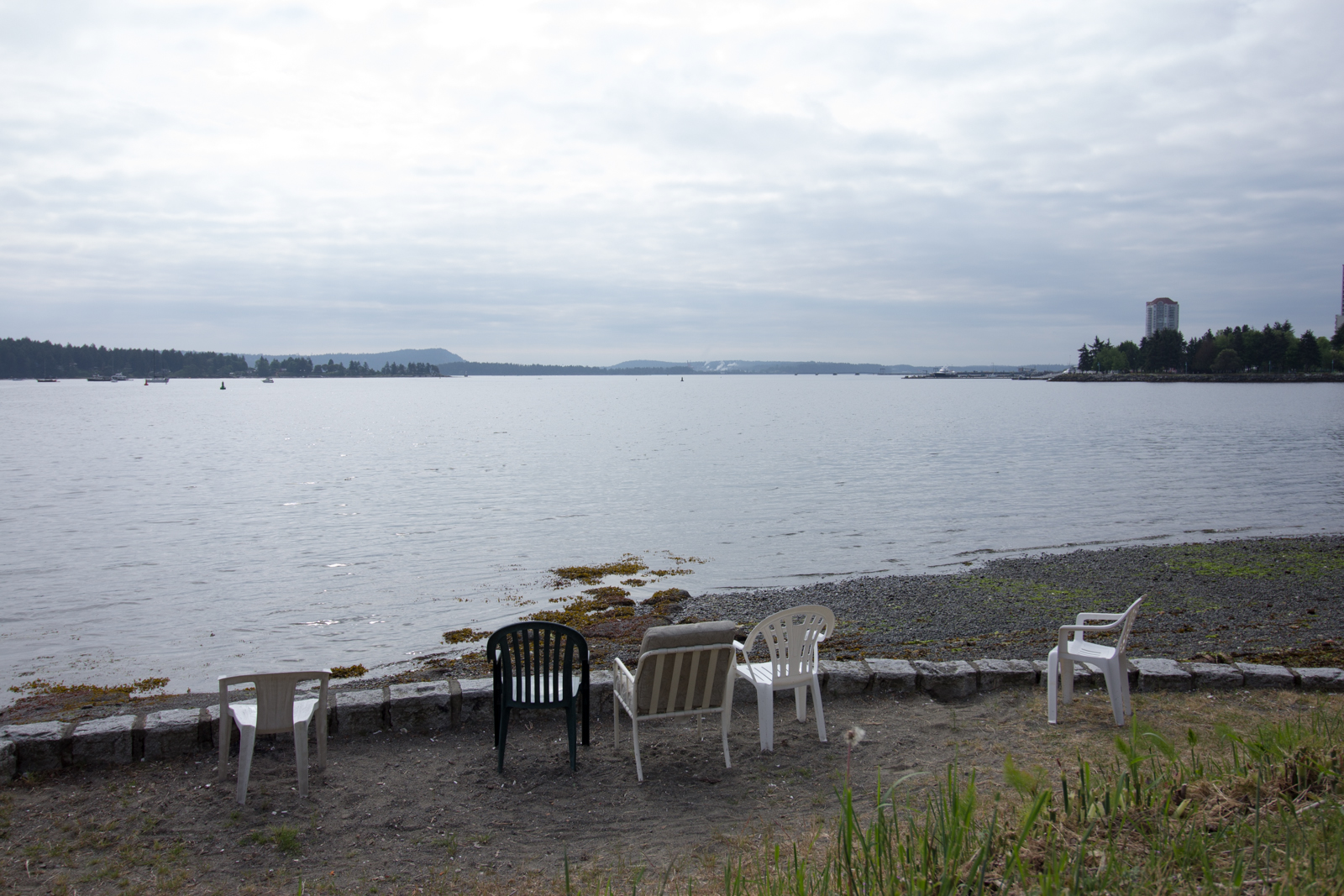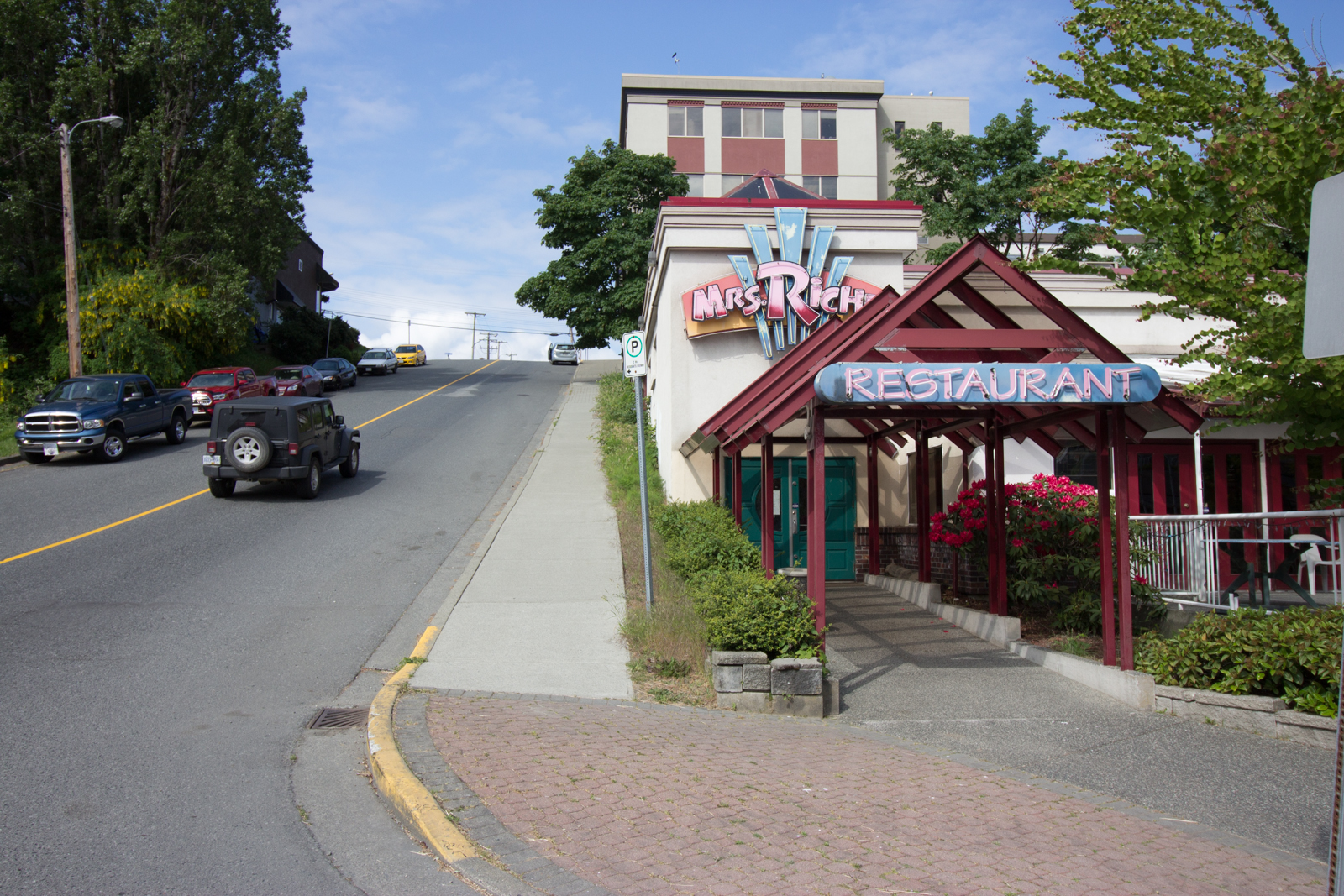 Til next time!