Last monday, as I was planning my unplanned spotting trip to Zurich, I couldn't believe what popped up on google flights. The Tuesday afternoon flight back to Geneva was operated by an Etihad Regional Saab 2000 – a route they dopped a few month ago! A unique chance to fly on an airline that doesn't exist anymore!
Darwin airline and the surprising Etihad rebrand
I've wanted to fly on a Saab 2000 for quite a while now. Where I live, the only real opportunity to do so is out of Geneva with Darwin airlines. Here is where it gets interresting. Darwin Airline is originally a swiss airline base in Lugano, launched in 2003. In 2011, the company took over failing FlyBaboo, and in late 2013, Etihad Airways invested in a 33% stake of the little regional airline, and took over the marketing and sales of tickets.
Etihad gradually repainted all Darwin's ATR 72 and Saab 2000 fleet, and operated the Zurich – Geneva flights mostly with the latter aircraft type.
The Saab airliners are rather rare and exciting types. There have only been 63 Saab 2000s delivered, and most of them are still in service in the UK with Loganair and Eastern Airways, and swiss Darwin Airline – or, they are still known today, Etihad Regional.
I came close to booking a few times, but never actually did – which I then started to regret once they stopped operating the Zurich – Geneva route a few months ago. In late july 2017, Etihad sold its Darwin shares to Adria, meaning the planes would soon get yet another livery, while still being operated on behalf of Darwin…
Naturally, I was very excited indeed to see an Etihad flight pop so convenienly for my return to Geneva! I'd get to fly on a Saab 2000 for the first time, on an aircraft painted in a livery of an airline that doesn't exist anymore! Needless to say, it didn't take long before I booked the flight, for a cool 52 euros, which was 30 less than a train ride.
"There is no Etihad Regional!"
After catching the 6:30am golden hour heavy traffic and spending the morning and early afternoon at the viewing terrace, it was time to check in for my 3:30 pm flight to Geneva.
Earlier that day, I was told that it was a charter flight, and that check-in was possible from 8 am at the Etihad counter. Once I got there, the two ladies at the counter looked perplexed. At first, one of them said there was no such thing as Etihad Regional, and couldn't find the flight in the system. After a few minutes of back and forth, I told them the current owner context which they weren't aware of, and they told me to come back 2 hours before departure.
I came back for check-in in the afternoon and this time there was a more experienced lady, who even asked me what seats I wanted. 2A it was! She too didn't know the details behind the rebranding. The whole thing seemed quite confusing to everybody.
Tumbleweed boarding
5 people, me included, were sitting at gate B09. This was strange, since the saab 2000 is not a small turboprop either – this one has 50 seats.
There was no announcement, but somehow when the time came, we all slowly stood up and showed our boarding passes. A bus was not ready yet, so it took a few minutes before we were on our way. A missed opportunity for a perfectly timed boarding, but it was funny, we all kind of looked at each other like "Hey this feels kind of exclusive".
I always thought Etihad has one of the most photogenic liveries out there. It catches the sun so well, especially compared to white liveries, that it's almost difficult to mess up a photo.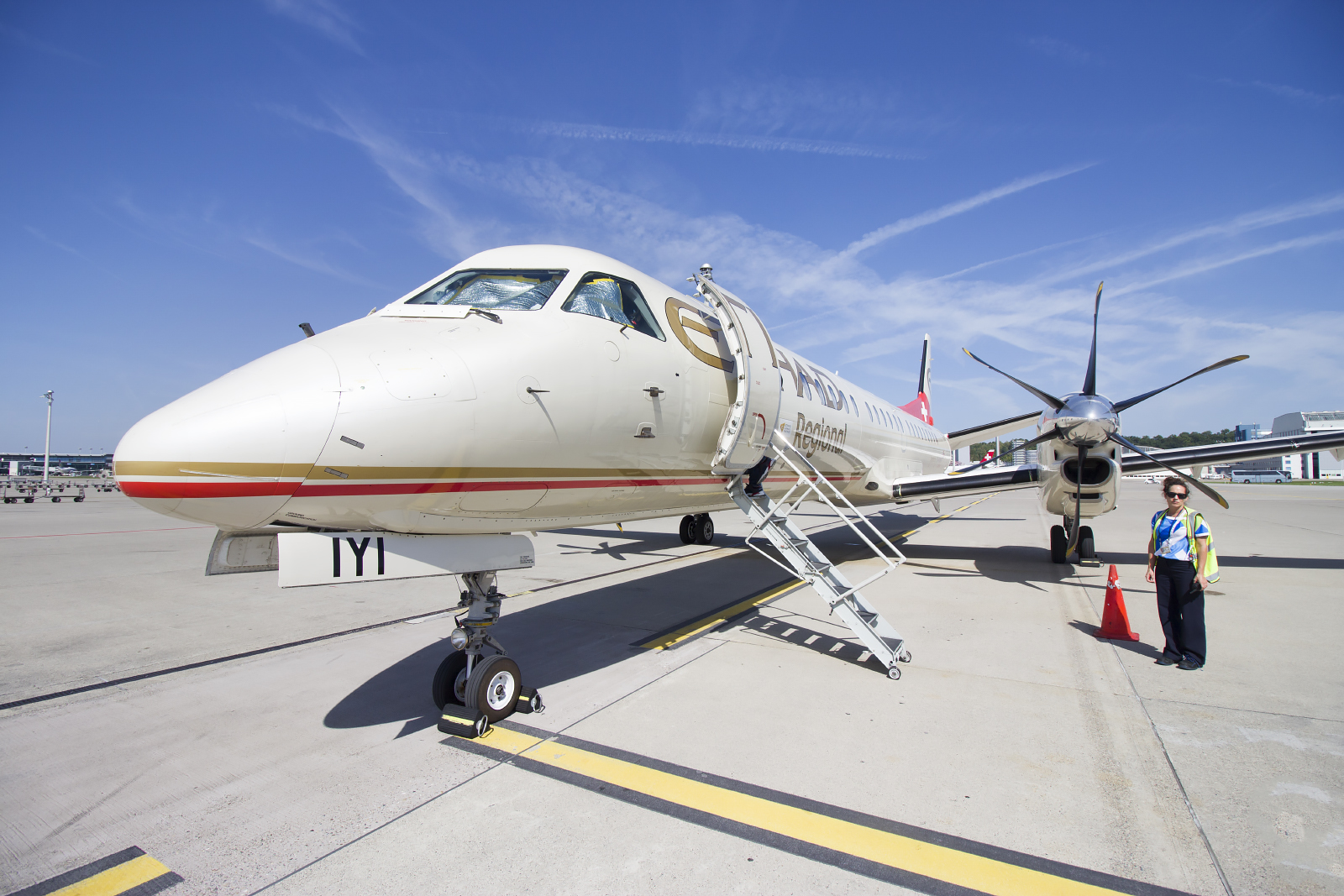 Interrestingly, there was already about 10 people onboard, my guess is they were Etihad employees commuting for the evening GVA-AUH flight. The rest of us took comfortably place in the beige leather seats, in a 1-2 configuration.
Our aircraft, HB-IYI, was parked a stone's throw away from the Breitling constelation, not far from the SR technics maintenance hangar.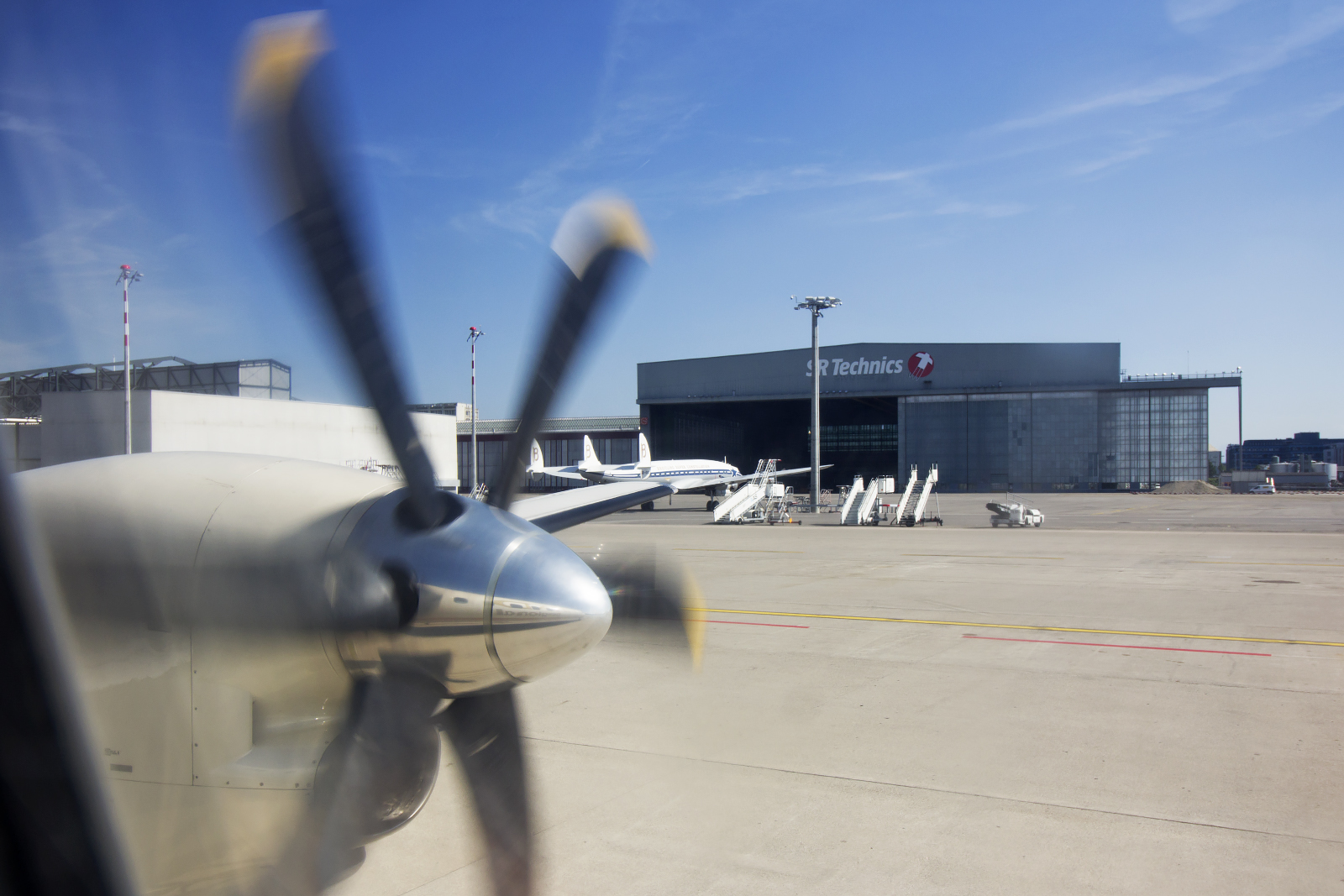 The 35 minute scheduled scenic flight

The Zurich – Geneva flights are always a treat. The aircraft is usually light, and we fly significantly lower than normal flight. That day, the takeoff roll was a blast – the almost instant thrust of propeller aircraft never fails to get me!
Since the flight is only 250 km, we cruised at 15 000 feet, while still flying pretty fast at 630 km/h. They even make the effort to provide some inflight service, with a choice of either cake or small pack of bretzels and a paper cup of water.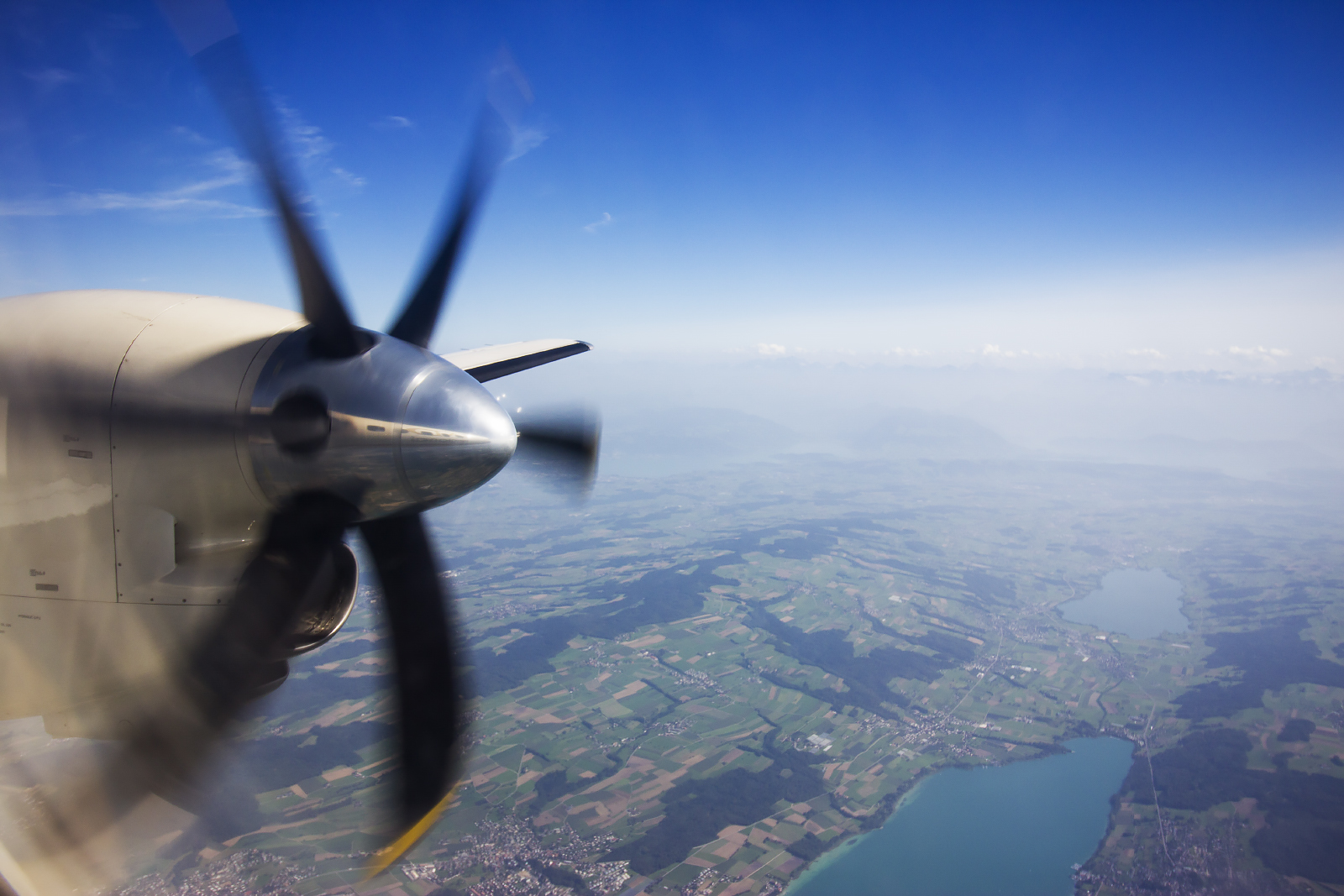 Interrestingly, the flight lasts about as long as the jet operated flights. As we got closer to Geneva, we flew past the airport before making 2 right hand turns to land from South-West. This made the flight longer by about 10 minutes – much appreciated! The runway 05 approach flight path goes not far from the montains, where frequent updrafts occur. That day, this produced some very enjoyable turbulence and side slip.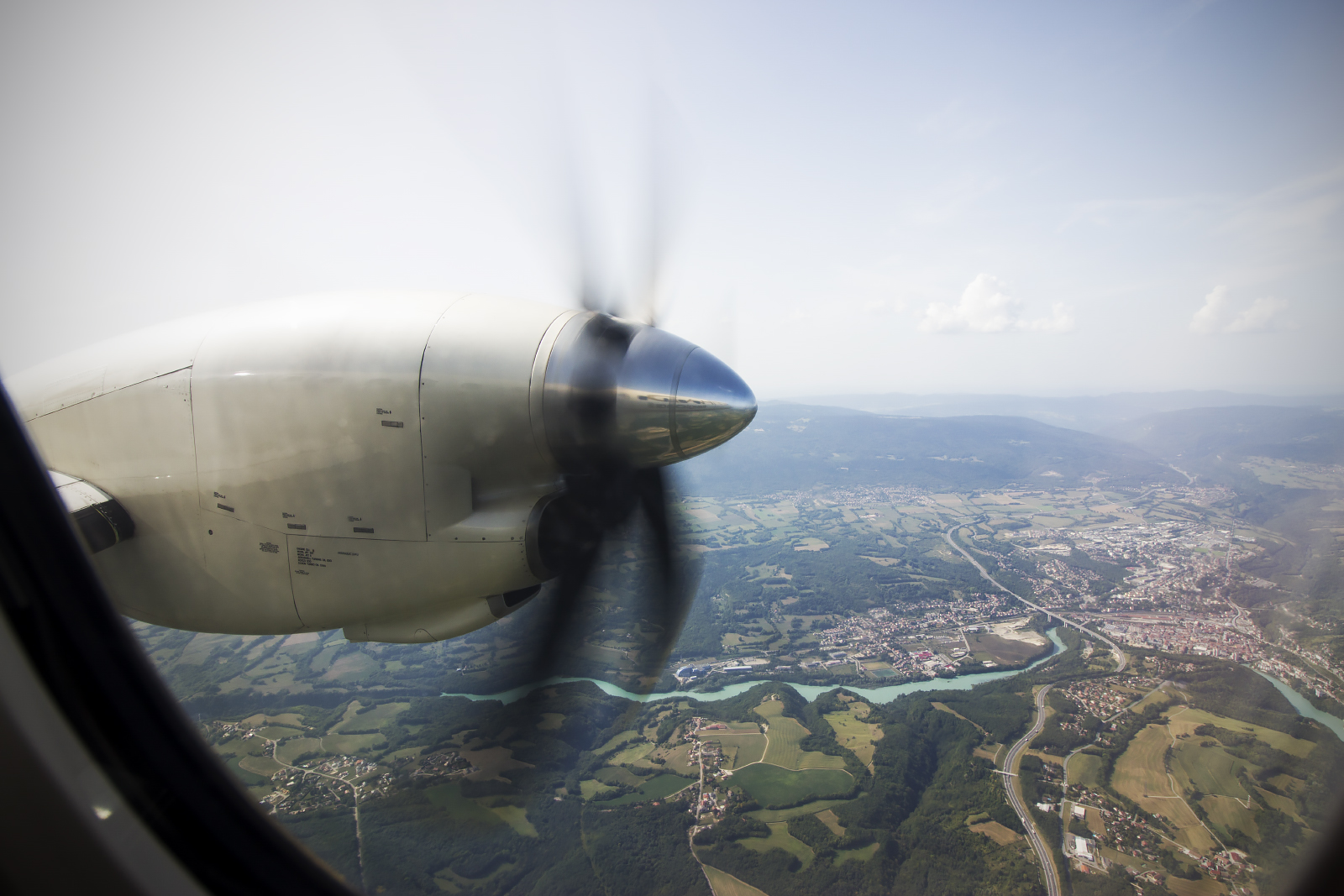 We landed 35 minutes after taking off from Zurich, and parked right next to M-YBUS, Prime aviation's private A320.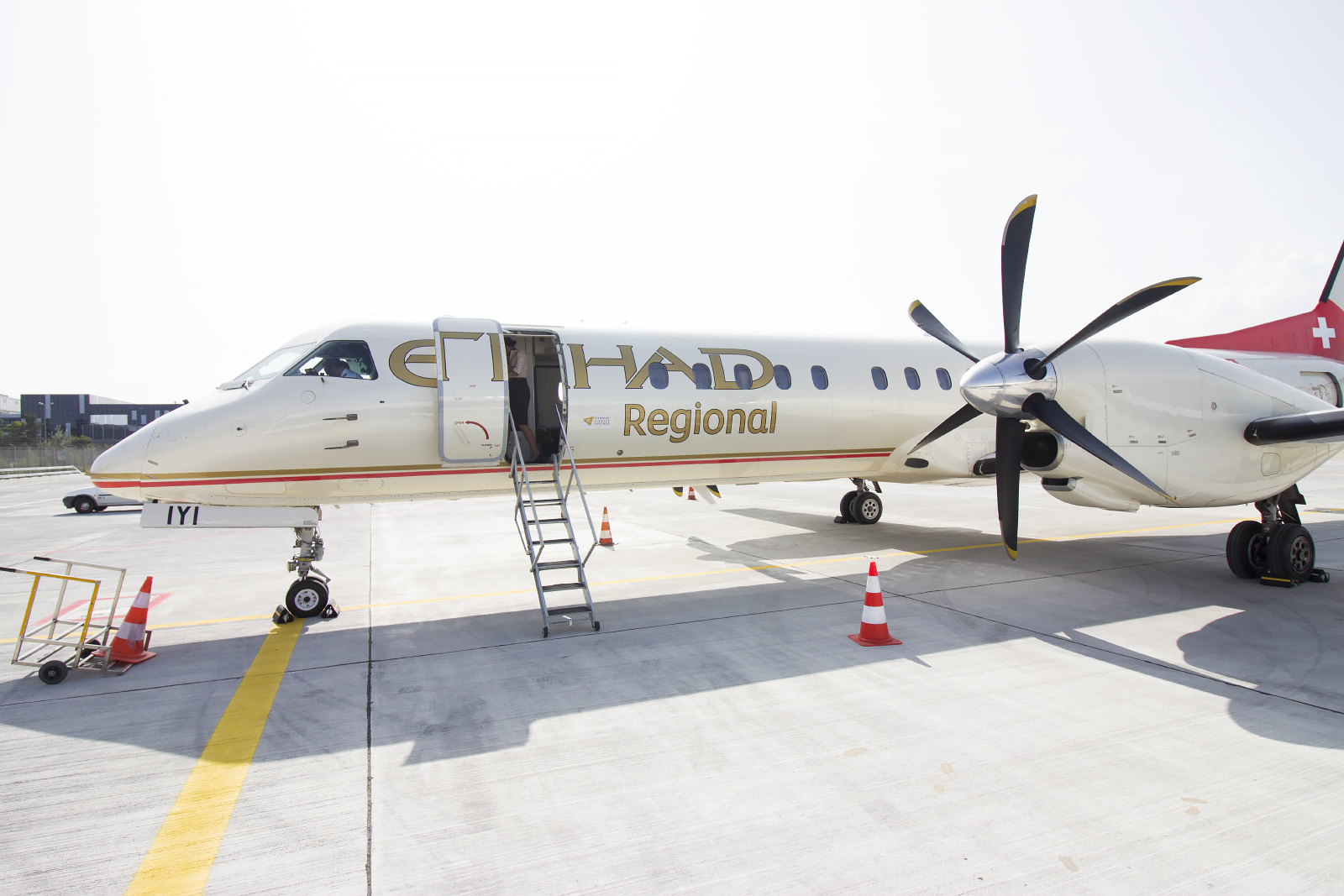 The ride was over, and it was time so say goodbye to the Etihad Saab. It's a really fun aircraft to fly on. At some perticular RPM and propeller pitch, the engine noise feels like flying in a bomber (not that I would know how that feels but hey). I'm will try to fly on the type again, and just in general, lean more towards propeller planes when possible.
This was probably the last time I flew on an Etihad Regional flight. In fact, according to FR24, all the flights with HB-IYI after this one had already an Adria flight number. Maybe my flight was the last one after all, at least on this route…
Til next time!